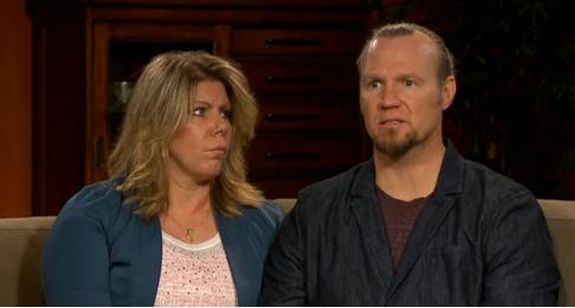 By Holly Rasmussen
It's time for the Sister Wives finale! We pick back up with everyone's favorite ponytailed polygamist and his family during a very dramatic period in their lives. As you may know from watching the last few episodes, Kody's first and only legal wife, Meri, has decided she wants to divorce Kody. However, she's not seeking a divorce because Kody's a jerk like you may think. Meri says it's so he can marry his newest and youngest wife, Robyn, and adopt her kids from a previous marriage.
Meri says Kody and Robyn don't know anything about her plan. (I find that hard to believe.) When Meri sits the Kod-Man and Robyn down to tell them her idea, they act shocked. Robyn cries, of course. Robyn says the kids see Kody as a dad and her not being legally married to him is one of the only things preventing Kody from adopting them.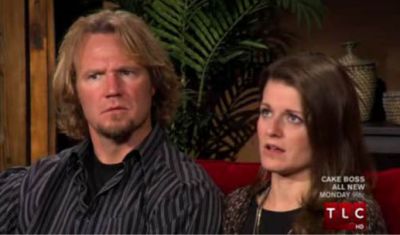 I don't believe for one second that Kody had no clue this coming. I would bet it was his idea from the beginning. He and Robyn probably approached Meri with it and told her that she could be the martyr if she went along with it, and that they would all act as if Meri unselfishly came up with the idea on her own. (Side note- can someone please, please tell Kody to stop wearing that ponytail?)
Robyn talked briefly about her previous marriage, saying she felt "trapped" in it. Robyn finally addresses the kids' biological father, saying that he doesn't support the kids emotionally or financially and doesn't see them very much. The fact that she says "very much" indicates that, while he may not be around as much as he should be, he is still involved in his kids' lives. He would have to sign over his rights to them for Kody to be able to adopt them? Is he willing to do that? This all just seems strange. They're acting like the kids weren't raised by that man for many years when they were.
Meri said she has already talked to Mariah, her daughter with Kody, about the issue. So we are supposed to believe that she hadn't talked to Kody about it, but she had talked to their teenager about it? That makes sense.
Up next, Meri sits #2 and #3 (otherwise known as Janelle and Christine) down to break the news to them. Although we expect Christine to freak out, as per usual, she actually surprises us all and acts like an adult. In fact, she's happy about it.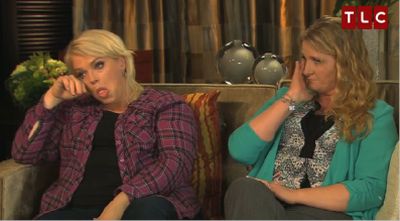 Janelle is just sitting there quietly. Finally, she speaks up and mentions how much of a nightmare the family's taxes are going to be because of this. Good ol', Janelle. You're the only one on this show that I don't hate.
Next, we see Janelle sit Kody down from some real talk. (Am I the only one who thinks Janelle and Kody make the oddest couple? What do they have in common? She is way too smart to be married to this ponytailed douche.)
Anyway, Janelle tells Kody she's afraid he's going to start favoring Robyn. Oh, Janelle. Let's be real here; your fears are about four years too late. She has to know he already favors Robyn. In fact, we all know; it's as plain as day.
Also–is Kody wearing a denim blazer in the interview portion? A denim blazer and a ponytail. Oh, Kody. You just keep getting worse.
Kody assures Janelle nothing is going to change. It's all for the children. Blah, blah, blah. We're not buying it, Kod.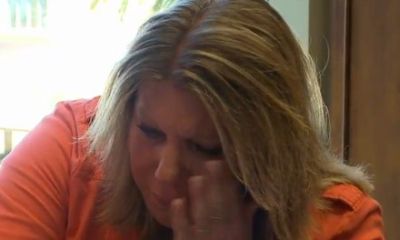 Meri has printed the divorce papers and she and Kody and Robyn (of course) are going to the lawyer's office to get divorced. Robyn walks in and she and Meri are wearing the exact same jacket. They are taking this 'my sister wives closet' thing literally. Ladies– you bone the same dude, must you buy the same jacket as well?
Meri seems to be very upset over this divorce, naturally. She's having dizzy spells. She breaks down crying when she's signing the papers. This is really sad. Oh, and of course, Robyn is crying as well, and manages to somehow make this about her own divorce.
Well, that's it, folks. Kody gets his way, once again. The 'Sister Wives' stars all sit down with Tamron Hall for a "Tell-All" special that aired after the episode. Of course, it literally told us nothing new regarding this strange situation. The show was recently renewed for a sixth season, but we will reportedly have to wait until the fall for new episodes.

To read Holly's recap of the previous 'Sister Wives' episode, click here.