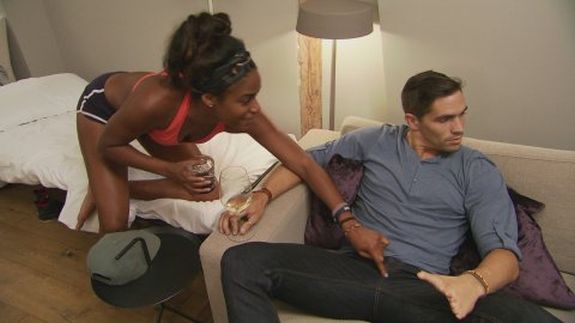 Last month, The Ashley tipped you off that a dramatic disqualification was coming on The Challenge, and this week the episode aired, with contestant Nia Moore being sent home after she sexually assaulted her competitor, Jordan Wiseley. She was disqualified from the competition after she unleashed a vicious verbal and physical attack on Jordan and his partner, Sarah Rice. During the attack, Nia pulled down Jordan's pants, insulted his, um, manhood and called him a gay slur, among other things.
"There is a fine line between calling someone names and then there's crossing that line and actually physically grabbing and touching somebody and I mean, let's face it, we can't touch you. So don't touch me, at all," Jordan told the cameras after the groping.
In an emotional message posted to her Instagram account yesterday, Nia expressed her anger and disgust with herself over her actions.
"Last September I sat on a dark plane alone, traveling from Norway to Atlanta, wide awake the entire flight," Nia wrote of the plane ride home after being disqualified. "I was livid with myself. I was also sad, embarrassed and fearful of how my actions would be perceived later. How would I explain this to my friends & family? An opportunity of a lifetime–one that would not only reward me with a ton of money, but prove that I am a resilient competitor–was taken away from me. The painful part was knowing that I had robbed myself. I acted alone and no one else was responsible."
Fans had a mixed response to Nia's elimination. Most, however, believed that the show's producers made the right decision in sending Nia home. After all, Vinny Foti was sent home during the original "Battle of the Exes" season for pulling down the top of contestant Mandi Moyer, so it's only fair that Nia would be given the same punishment.  (Also– how the hell did Nia manage to not be sent home on Real World: Portland after doing this to her cast mates? Didn't anyone ever tell her to keep her hands to herself?)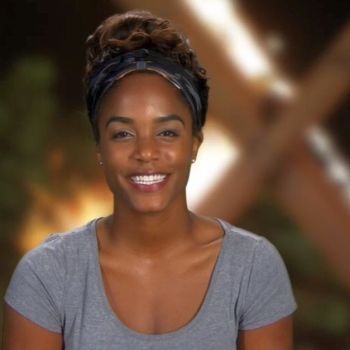 In an interview with MTV News, Nia said that she know understands why the show's producers acted in the way that they did.
"When they kicked me off, my first reaction was that it was completely wrong, and unjustified, but I thought about it, and if the roles were reversed and if Jordan pulled my pants down, I would want him kicked off. It was wrong," she said, later adding on Twitter that she still has nightmares about the incident.
During her tirade, Nia also used a homophobic slur, something she told MTV News she also deeply regrets.
"I know I was wrong, and my biggest fear is being labeled homophobic," she said. "I want to extend my apology to anyone I offended, and I sincerely mean that. But because I do care what people think about me in that aspect, I want them to know it's something I am not proud of."
The show's producers have become much more strict in dealing with the contestants' hijinks since the "Tonya Toothbrush" lawsuit of 2011. (In case you're unfamiliar with the case,  'Challenge' contestant Tonya Cooley sued the production company and several others after Evan Starkman and Kenny Santucci allegedly sexually assaulted her with a toothbrush while they filmed "The Ruins" in 2009. In the lawsuit, Tonya also claimed that the show's producers encouraged inappropriate behavior.) They do not give contestants the extra chances they used to during early seasons of the show.
In her Instagram post, Nia asked Jordan and her fans to forgive her.
"In real life (reality show or not) there are consequences for your actions," she wrote. "I do hold myself accountable…but all I can do now is move forward, apologize to those I have hurt or offended and make better, wiser choices in the future."
It is not yet known whether the show's producers will allow Nia to come back on future seasons of 'The Challenge.' Given the history, however, it's unlikely. Evan and Kenny have yet to return to a 'Challenge,' following the Tonya incident, and Vinny Foti has not been featured on a 'Challenge' since his disqualification. The Ashley's source tells her that producers began calling potential cast members this week to participate in the next 'Challenge,' but The Ashley can't confirm whether or not Nia got a call.
(Photos: MTV)