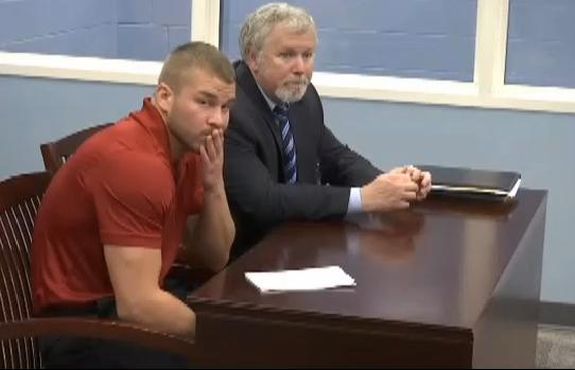 The fight between Teen Mom 2 stars Jenelle Evans and Nathan Griffith that resulted in Nathan's arrest on March 4 was big news in Myrtle Beach, South Carolina, where the couple lives. In fact, after the news broke that both Jenelle and the 'Teen Mom 2' film crew had called the police on Nathan during the incident, the local news crews rushed out to Casa de Juh-nelle to see what was happening—and The Ashley has the resulting footage!
Unfortunately, by the time the news crew got there, Nathan had already been whisked away by police. Jenelle and Nathan's landlord was on the scene on the day of the arrest, however, and talked to the film crew before trying to get them to leave.
The guy (dressed in his finest stained white tee and sweat pants, naturally) seems to side with Nathan. He tells the news crew that Nathan was arrested "for ripping a ring off her finger, that's it!"
WBTW-TV: News, Weather, and Sports for Florence, SC
He then reveals that Jenelle won't be filming 'Teen Mom 2' at his house anymore.
"There isn't going to be any more TV show because I just talked to them," he says. "Jenelle is leaving here. I just talked to them last night. My whole f**king neighborhood is all over this s**t."
The landlord (who is obviously a classy fella) then tells the news crew that if they come back to Jenelle's house he will "smash their face in." (As you do…)
The second video shows Nathan being released from jail and being picked up by several people, one of which is a female who is not Jenelle. The video then cuts to Nathan's bond hearing. We see Nate (who is actually wearing a shirt with full sleeves for once!) and his lawyer at Nathan's bond hearing. The lawyer is telling the judge that Nathan is not a flight risk, as he has a lot of family that lives in the area.
WBTW-TV: News, Weather, and Sports for Florence, SC
Nathan was, indeed, released on bond after the hearing. The court issued a no-contact order between him and Jenelle for 30 days, so they are currently living apart but are still together.
Nathan's cell mate claimed that Nathan told him what happened on the day of the arrest. To read what the cell mate said, click here.
UPDATE After this story posted, Jenelle responded and explained what was happening in the videos.
"The only reason my landlord says no more 'TV show' and that I'm 'leaving' is becuz I told him that myself. He was sticking up for me," she tweeted on Friday afternoon. "My landlord found is VERY disrespectful for the news crew to be at my house when there was no reason for it, so yeah he told them to leave."