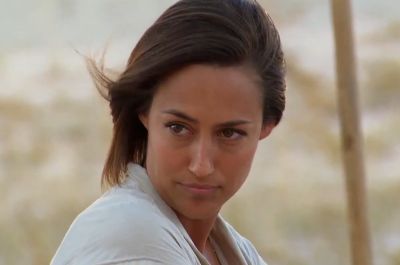 Don't expect to see Kesley Poe on Bachelor in Paradise this summer! In fact, the only place Kelsey wants to meet up with those involved with the production of The Bachelor franchise is a courtroom!
According to Radar Online, Kelsey– the woman nicknamed the "Black Widow" on Chris Soules' recent season of 'The Bachelor'–is considering suing the producers of show if they do not agree to pay for the therapy she's undergoing to help her deal with the pain she experienced from appearing on the show.
Kelsey, whose first husband, Sanderson Poe, died tragically in 2013, told Radar in a previous interview that she felt ABC and the show's producers, "twisted the plot and played off the tragic death of her beloved ex-husband in order to get ratings." By doing this, Kelsey claims she suffered emotional distress via the other girls on the show and viewers, and she wants 'The Bachelor' gang to pay for her treatment.
"Kelsey is being treated for EMDR [Eye Movement Desensitization and Reprocessing], which is an effective form of treatment that is used to alleviate the stress associated with traumatic memories," an anonymous source told Radar. Kelsey says she was "destroyed by pain" from appearing on the show, and if they producers don't agree to pay for her treatment, she is planning to sue them, says the anonymous source. (Being that Kelsey spoke on the record to the site just days before this anonymous "source" did, it's most likely Kelsey herself behind this interview as well. It would make sense that she would not want to be quoted on the record if she's preparing for a lawsuit.)
Anyway, the story states that ABC has yet to offer financial compensation or pay for Kelsey's treatment, so Kelsey is supposedly "preparing the records she would need for a trial."
Unfortunately, Kelsey will have a difficult journey ahead of her if she does go ahead with the lawsuit. Many former reality contestants have attempted to sue reality show production companies or networks after they felt that they were portrayed inaccurately or unfairly on television. However, it is rare that anyone ever wins these types of lawsuits, due to the fact that the contestants are forced to sign extremely detailed and defining contracts before participating in a show.
In fact, the 'Bachelor' franchise contract, like most reality show contracts that contestants must sign, give the producers permission to edit you however they'd like, as well as intentionally embarrass or humiliate the contestant. (There is usually even a section that specifically spells this out.)
Even Reality Steve thinks Kelsey  has no chance of ever winning a lawsuit against the producers.
"Even if EVERYTHING you said on TV was all taken out of context, it doesn't matter," he wrote in a recent column. "They own you, they can do whatever they want to your edit, and there's nothing you can do about it."
Regardless, Kelsey apparently feels that she might have a case, given the bullying she says she endured.
"The whole experience set me back months," she told Radar earlier this month. "I feel battered and bruised."
ABC has not yet commented on this to any media site.
UPDATE: Kelsey recently addressed this story on her blog. While she does, indeed, feel that she was damaged by appearing on the show, she has decided not to sue anyone.
"Suing is an option I choose not to pursue because I want to live a life full of happiness," she wrote. (Click here to read her full blog on the subject.)
(Photo: ABC)