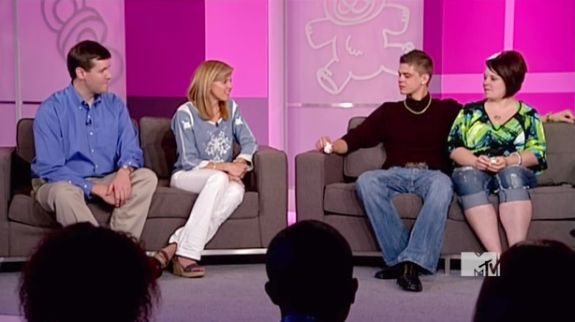 Teen Mom OG premieres tonight (!), so over the last few weeks, the tabloids have been running wild with stories about the show's stars. One story that seemed to pick up quite a bit of traction over the last week was the story released by In Touch Weekly that claimed that Catelynn Lowell and Tyler Baltierra were battling with Brandon and Teresa Davis, the couple that adopted Ty and Cate's firstborn daughter, Carly, back in 2009.
The tabloid stated that the relationship between the couples was "really strained" and that Brandon and Teresa have "threatened to cut off contact" between Carly and the 'Teen Mom' stars because, as the magazine states, Cate and Ty are not following "the adoption rules" regarding posting photos of Carly to social media.
While Catelynn and Tyler have confirmed that their relationship with Carly's adoptive parents will be discussed and examined in the new season of 'Teen Mom,' both have slammed the reports that they are being cut off from contacting Carly. In a series of tweets, Catelynn, Tyler and their adoption counselor, Dawn Baker, have all denied In Touch's claim.
"All the crap of ppl saying that Carlys parents are taking away communication from ty and I are all lies! Don't always believe what u read!" Catelynn tweeted over the weekend. (Dawn likened the story to "rot.")
When fans, who believed the tabloid story, tweeted to Tyler that Brandon and Teresa should "lighten up" and that Cate and Ty have the right to post photos of their own daughter, Tyler was quick to defend the couple he is supposedly battling with.
"No! This is not true or the way an open adoption works. B & T are Carly's parents NOT me & Cate," he tweeted to a fan.
Although it is not yet known whether or not the couple will appear on the new season of 'Teen Mom,' it's likely, as Catelynn mentions in this interview that she had an uncomfortable conversation with Brandon and Teresa while filming. (It may have been on the phone, however.) She also confirmed to People that the new season will focus in part on their relationship with the North Carolina couple.
"People will see that in the show too – us navigating our relationship with [Carly's adoptive parents] Brandon and Teresa, how [our second daughter] Nova comes into play, all that kind of stuff," Catelynn told the magazine.
Speaking of Brandon and Teresa, they are keeping busy these days, just like Catelynn and Tyler. They are now parents of a little boy, whom they adopted at birth in 2012. (Fun fact: Catelynn was actually in the room when the baby boy was born to help support his birth mom!)
Catelynn and Tyler last saw Carly in November 2014, during their scheduled visit. During the visit, Brandon and Teresa gifted the couple with a few outfits that Carly wore as a baby. Catelynn and Tyler planned to give the clothes to Nova, who was born in January.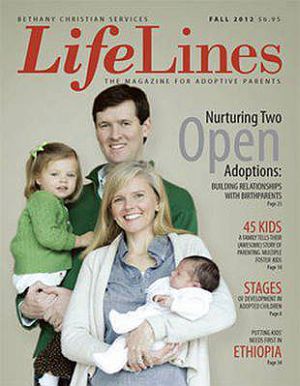 Many fans have been critical of Brandon and Teresa; however, The Ashley wants to point out one thing: The couple had no idea that Catelynn and Tyler were going to be on 16 and Pregnant when the plans for them to adopt Carly began (despite how it looked on TV). Also, they were part of the show's first season, and most likely figured that this would be a one-off episode. No one had any clue at the time of filming that the show would become so popular, or that Catelynn and Tyler would go on to star on five seasons of 'Teen Mom.' To sum it up, they really didn't know what they were signing up for in terms of having such a public adoption.
In fact, Brandon and Teresa commented about this in an interview with adoption magazine Lifelines in 2012. (The Ashley painstakingly transcribed that interview for y'all.) Teresa discussed how difficult it has been for her and Brandon to watch (via the show) Cate and Ty struggle with their adoption decision.
"It has been very hard that our adoption has been very public," said Teresa. "We watch what our birthparents are going through on TV. It's something I would expect birthparents to go through while dealing with their grief and loss but it's still hard to see and process it."
However, Brandon said that they do not regret allowing their adoption of Carly to play out on TV. (Well, at least they didn't in 2012; things may have changed in the last three years, of course.)
"In retrospect, we are glad that they were part of the show," he said. "We are thankful that it has really given Catelynn and Tyler great purposes in life.
'Teen Mom OG' premieres tonight! Click here to watch the trailer and, of course, stay tuned for The Ashley's recaps of the episodes!
(Photos: MTV, Lifelines magazine)