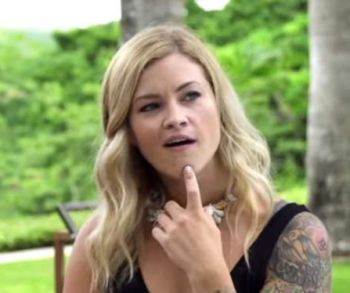 Sarah Rice just committed what was arguably one of the best blindsides ever to take place on The Challenge, but don't expect her to do it again next season.
In fact, the eight-time show veteran has announced that "Battle of the Exes: II" will be her last season of 'The Challenge.'
"I'm definitely retired, it's just a weird thing to say," she tweeted in February.
Earlier this week, she explained her reasons for ending her 'Challenge' career.
"Yes it is [my last 'Challenge]," she wrote on Twitter. "Im getting married in May & starting grad school & Being gone for 60 days is too long! + babies are In the future."
Sarah became engaged to her boyfriend, Landon Patterson, in October 2014 (right after she returned from "Battle of the Exes!") The couple plans to get married on May 23 in Huntington Beach, California. While many fans thought they saw the spark between Sarah and her current 'Challenge' partner, Jordan Wiseley, reunite this season, Sarah assured them that she and Jordan are just friends. (She did report that Jordan will be at her wedding, however!)
Leaving 'The Challenge' will be hard for Sarah. She's frequently expressed how much she loves competing on the show.
"I'm getting a fix when I go on these things. I'm Sarah and I'm a Challenge-aholic," Sarah told Reality Wanted in 2013. "I don't say no because where else can I do this stuff?"
Sarah knew she was retiring after "Battle of the Exes II," which may be a reason she decided to make such a big move and blindside her friend Johnny Bananas right the finals. That move, while bringing her closer to her first-ever 'Challenge' win, destroyed her real-life friendship with Johnny, Sarah has confirmed.
The finale of 'The Challenge: Battle of the Exes II' airs tonight on MTV!
(Photo: MTV)