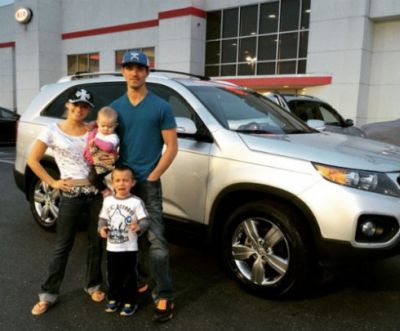 Teen Mom 3 star Mackenzie McKee totaled her family's new car over the weekend, less than 24 hours after she and her husband Josh purchased the vehicle!
Mackenzie, who also starred on the fourth season of 16 and Pregnant, posted a photo to her Instagram on Friday,  showing her standing proudly with her husband Josh and their two kids in front of the new Kia Sorrento that they had just purchased. Mackenzie stressed how hard she and Josh had to work to purchase the car.
"We have been dreaming of a nice family car to travel in for a while now and have worked hard for this," she wrote in the photo caption.
Unfortunately, less than 24 hours later, Mackenzie drove the car off the highway and into a ditch. The car's airbags deployed and the vehicle was totaled, according to TMZ. Mackenzie's diabetes reportedly played a part in the accident.
"The MTV star was driving on an Oklahoma highway with sky high blood sugar Saturday night, when she zoned out and suddenly swerved off the road," the site reports.
Mackenzie has battled with Type I diabetes since she was 12 years old. It was a topic often discussed during her 'Teen Mom 3' segments.
Luckily, Mackenzie was alone in the car (her son Gannon and daughter Jaxie were not with her), and she was not injured. Her pocketbook, however, did take a brutal hit.
According to TMZ, Mackenzie had no insurance on the car, as she had just purchased it. Since she drove the car without having insurance on it, she and Josh are now basically out the reported $26,000 they spent to buy the car.
UPDATE: Mackenzie called into TMZ Live after they posted this story and gave her account of what happened. Her explanation is better than anything The Ashley could ever imagine. Get yer banjos out, y'all!
Mackenzie explained that the reason she was out on a dark, deserted road on Saturday night was…because she was trying to find her husband, who had gone Missing in Action!
"I was on a backroad, it was night, and I was actually searching for my rotten husband, who I couldn't find!" she told TMZ.
What was Josh up to out there, you ask?
"I knew that the friend he was hanging out with, they go hog huntin' there, and I was trying to find him," Mackenzie said.
AS.YOU.DO.
Anyway, Mackenzie explained how she landed her family's new car in a ditch.
"I didn't know there was a curb and [I] over-corrected and I went into a ditch," she said, adding that she later found out that her blood sugar levels were very high. "I don't know if I was just not driving good because of my blood sugars or I was mad at Josh, I don't know. I didn't know the car very well…next thing you know I'm in a ditch!"
Mackenzie explained that she didn't have insurance on the car yet because she and Josh purchased the car on a Friday night.
"No one was open on the weekend so I thought 'I'll go and get the insurance on Monday.'" she said.
Of course, she shouldn't have been driving an uninsured vehicle, but, hey, when you've gotta go fetch your husband from a hog-huntin' expedition, you do what you've gotta do!
Mackenzie gave her fans some final words of advice:
"Don't ever chase your husband because bad things happen."
Thank you, Mackenzie. You and your story have made The Ashley's day.
(Photo: Instagram)