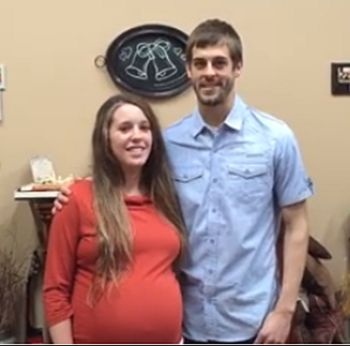 Jill Duggar has yet to pop out her firstborn child, but that hasn't stopped TLC from making plans to capitalize on the 19 Kids and Counting star's labor and delivery! The network announced today that the baby's birth will be shown during a week-long Mother's Day program block!
As part of what the network is calling the "Mother of All Weeks," Jill will be seen huffin' and puffin' out her firstborn during a special two-hour episode of '19 Kids and Counting.' (Let's hope she doesn't squat out the kid while on the toilet, like her sister-in-law, Anna Duggar, did.)
The episode, which will air on Tuesday, May 5, will also feature motherly advice from Jill's mom, Michelle Duggar. The day before, on May 4, the network will air an additional special that takes a look back at all the births we've seen over the years on '19 Kids and Counting.'
Jill is now a week past her due date, but she and her husband, Derick Dillard have made it clear that their baby has still not arrived. Jill and Derick are expecting a boy, but have not yet announced what they plan to name their son. They have, however, stated that they will likely choose a family name. (Click here to see The Ashley's best guesses as to what they will name him, based on Duggar/Dillard family names and history!)
Is anyone else hoping they name the kid Jim Bob?
Jill is planning to give birth at home, with her sister, Jana acting as her birthing coach. A team of midwives will also be there to help bring the baby into the world.
TLC's "Mother of All Weeks" will air May 3-10 and, in addition to the Jill Duggar birth special, will also include Mother's-Day-themed episodes of other TLC shows, including Long Island Medium, Kate Plus Eight and My Big Fat Fabulous Life.
(Photo: Instagram)