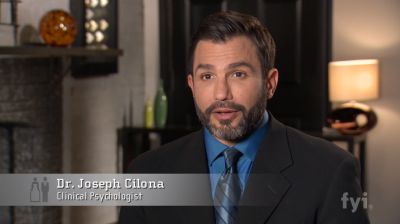 The second season of FYI's insanely popular reality show, Married At First Sight, is now in full swing, with the Season 2 couples having tied the knot on last week's episode. Tonight, we will watch as the new couples–Sean Varricchio and Davina Kullar, Ryan De Nino and Jessica Castro, and Ryan Ranellone and Jaclyn Methuen— go on their honeymoons and try to fall in love with their new spouses.
The new couples have a good chance of find lasting love, based on the success rate of the Season 1 couples; two out of three of them are still together. However, according to psychologist Dr. Joseph Cilona, one of the experts that helped pair both the Season 1 and Season 2 couples, it was much harder to match the second batch of couples.
"The successes of Season 1 made this task much more challenging for Season 2," Dr. Cilona told The Ashley in an exclusive interview.
'Married at First Sight' has become a huge hit, and has even spawned the spinoff show, Married at First Sight: The First Year. This created a challenge for the experts, given that many Season 2 applicants had watched the first season and wanted to be famous.
"We had over 7,000 applicants for Season 2 (in comparison to approximately 1,000 for Season 1), and we discovered very quickly that many of these individuals applied for many other different reasons including fame and notoriety," he said. "It was much more challenging to weed these people out when looking for matches for Season 2, but absolutely essential to the selection process."
The selection process for both seasons was extremely detailed.
"For both Season 1 and Season 2, we placed tremendous emphasis on trying to be sure the individuals we picked were authentic," Dr. Cilona added. "It's critical that they are genuine, that they truly want to be married, and that they are open to the radical process of a blind arranged marriage. "
Dr. Cilona said that they were skeptical of applicants with Hollywood aspirations, but did not completely rule these people out.
"Jessica Castro has done some modeling and acting in the past," Dr. Cilona said. "Our assessments found Jessica to be very authentic, and probably one of the most heavily invested in the experiment so she was ultimately not eliminated. The important issue is being genuine and authentic about the experiment and that it is top priority."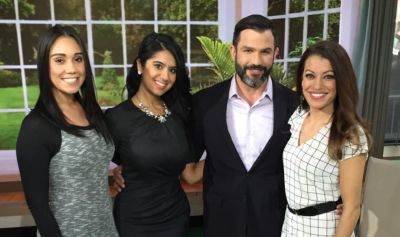 To ensure success for the Season 2 matches, Dr. Cilona said he revised some of the matching tools he used for Season 1 and studied the unsuccessful Season 1 couple, Monet Bell and Vaughn Copeland, to learn from their relationship.
"Just because a potential exists doesn't mean it can (or will) ultimately be realized," he said. "Sometimes what we think we may want in a romantic relationship is not actually what we need. I think Monet learned a lot about who she is and what is really going to work long-term in her relationships by going through the process and marriage to Vaughn. Much of what she initially described to us surrounding her desires and wants for a partner turned into not being what she actually needs or wants."
So how real is this reality show? The marriages are, indeed, legal, binding marriages, and Dr. Cilona insists that the emotions and actions of the participants are very real.
"'Married At First Sight' has been referred to as a reality show, though would be much more accurately described as a documentary," he said. "The only contrived element is the big one: the blind arranged marriage. Other than the marriage, all of the decisions of these participants are their own. The cameras follow them for six weeks and document their experiences for the viewers."
All three couples ended up getting hitched this season, but Dr. Cilona said there was a plan in place if someone had decided not to go through with the wedding.
"At the end, if someone ran from the altar, that's their choice and what happens after with each of them would be followed," he said. "Thankfully, we've been lucky and haven't had to face that situation so far!"
Dr. Cilona acknowledges that the show has its skeptics; he recently tweeted his frustration over journalists who criticize the show without ever having watched it. Although he says he was originally skeptical to have anything to do with the show when he was approached before Season 1 ("I thought it was utterly absurd and politely declined to even discuss the possibility") he is now very confident in the matching process.
"I think the viewers would be extremely surprised at how much time goes in to this process," he said. "The data yielded by my assessments of the finalists for Season 2 was over 3,800 pages! I had data on each individual that averaged about 150 pages each. It took me almost 400 hours to go through all of that data to come up with my recommendations for matches."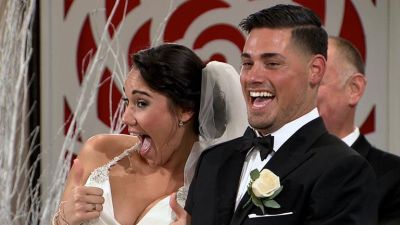 From there, Dr. Cilona and the other experts review all of the data and footage collected of each applicant. When it comes to actually making the matches, all of the experts have to agree.
"We all must be unanimous when it comes to the final matches. If we don't all agree, then there is no match," he said.
While the Season 2 couples' fates are currently unknown, viewers have been able to watch Season 1 couples Cortney Hendrix and Jason Carion, and Jamie Otis and Doug Hehner enjoy married life on 'Married at First Sight: The First Year.'  The couples recently celebrated their one-year wedding anniversaries, and while their first year of marriage is over, their spinoff show may not be. The network has not yet reached a decision on whether or not to continue the series. (The Ashley will keep you posted!)
Overall, Dr. Cilona has high hopes for the show and its participants.
"At its core, 'Married At First Sight' is about authenticity and honesty, and how these individuals and couples grow and evolve in their relationships and as individuals."
'Married at First Sight' airs Tuesdays on A&E and FYI.
(Photos: FYI)