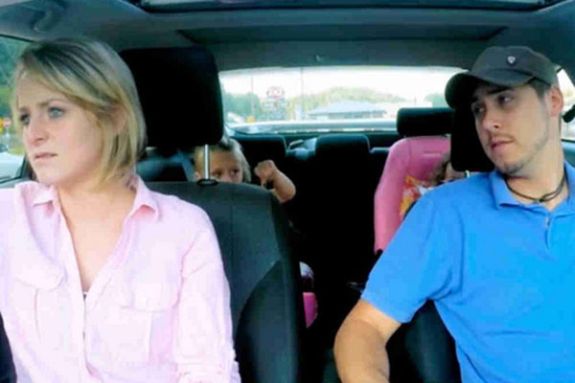 Leah Calvert noted on her official Facebook fan page that April 4 marked three years since her legal wedding to her husband Jeremy. However, the Teen Mom 2 stars had anything but a happy anniversary. The couple nearly split last fall after Leah cheated with her ex-boyfriend Robbie Kidd (Robbie confirmed the affair). Unfortunately, their marriage is not doing much better these days, numerous sources have confirmed to The Ashley. In fact, Leah and Jeremy didn't spend Easter together yesterday. While it is normal for Jeremy to miss big events due to his demanding work schedule, this was not the case at all yesterday.
Leah posted a few cryptic tweets about being sad and moving on, but really poured out her heart on her private Facebook page, posting an emotional status update on Easter.
"This isn't the only holiday I have spent without my significant other," she wrote. "Some days are harder than most. I have remained strong through it though and my strength has seen me through…Just as it does today and many more struggles to come!"  (This is just one of the many posts Leah's been making to her personal Facebook lately. Other posts discuss how she has "not been heartbroken like this" in a long time.)
Also, The Ashley has gotten word that Jeremy has been living like a single man. Although he and Leah seemed to be trying to get their marriage back on track at the beginning of the year, that effort appears to have failed. One source tells The Ashley that Jeremy has been seeing another woman recently (more details to come on that). What's more, Leah and Jeremy no longer follow each other on Twitter, and Jeremy's family is no longer friends with Leah on Facebook.
A separate show source reports to The Ashley that Jeremy recently got into touch with some of the people from 'Teen Mom 2' cast and crew, in what appears to be an attempt to set the record straight on what went down between him and Leah. (As The Ashley told you last year, Leah did admit to Jeremy that she cheated.) The Ashley has no idea what will (or will not) be shown on 'Teen Mom 2' Season 6 in regard to the Jeremy/Leah saga, but it is a topic that obviously cannot be avoided.
The Ashley has more info, but needs to get better confirmation before she can post it. Stay tuned!
(Photo: MTV)