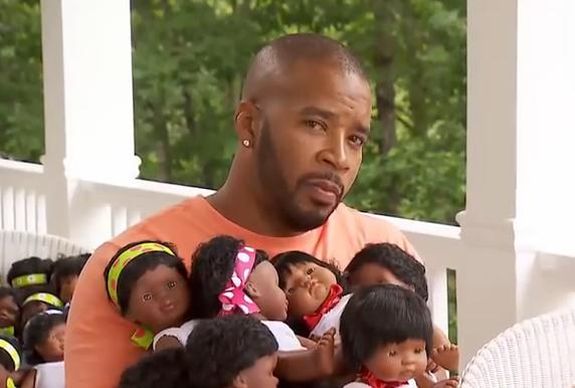 By Holly Rasmussen
It's not easy having 34 kids. Just ask Jay Williams, an Atlanta man who has fathered nearly three dozen children. Jay first came into the spotlight when he appeared on OWN's Iyanla Fix My Life. Iyanla Vanzant, a spiritual life coach, tried to help Jay deal with his past and form relationships with his children. Viewers were so fascinated by Jay's story that OWN has decided to give him (and his litter of kids) a reality show!
While we've seen a lot of reality shows about big families lately, but this one will be unlike any others currently airing. Jay is definitely no Duggar; his 34 children are from 17 different mothers. (His kids range in age from 3 to 26 and Jay once told Iyanla that if it weren't for his occasional condom use, he'd probably have 200 kids right now.)
Variety reported the show (which appears to be unnamed for the time being) will follow Jay as he "tries to put together his relationships with his family, children, and the mothers of his children with guidance from spiritual life coach Iyanla Vanzant."
While OWN is sure the show will be hit, it already has its fair share of criticisms. A petition has already been started on Change.org to stop the show from airing. The petition states the show needs to be cancelled because, "it is ridiculous to give a platform to a 'documented' dead beat father, woman-beating man that not only doesn't support his children financially, but emotionally as well."
Yikes. It looks like Jay's problems may go deeper than what we saw on 'Iyanla Fix My Life.'
"The bigger problem here is the children, many of whom he's done nothing for and hasn't had any interaction with in years, that he exploits by any means necessary using their hurt against them in the hopes of being able to profit monetarily," the creator of the petition wrote.
The petition has 50 supporters and a letter has been sent directly to Oprah imploring her to cancel the show.
Well, it seems like this one will be a doozy. We've seen show after show about large, wholesome families, but we've yet to see one about a struggling father that carelessly "spreads his seed" this many times. Oprah may have hit a new genre with this one.
Watch a clip from Jay's appearance on 'Iyanla Fix My Life' below: