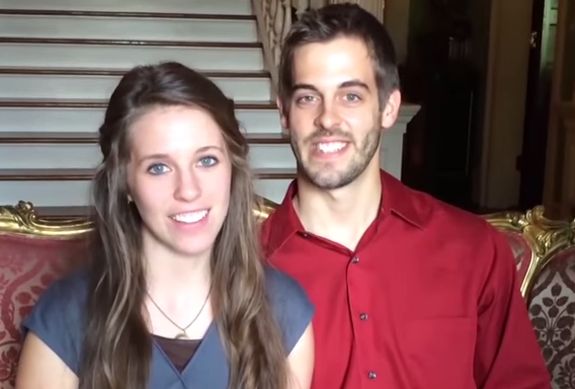 Jill Duggar Dillard has finally given birth! Fans of 19 Kids & Counting have been on a fanatic baby watch for the last two weeks, as Jill's due date came (and went). People (who has the monopoly on all Duggar news) broke the news just a few moments ago that Jill gave birth late last night!
Although she had planned to give birth at home in her giant bathtub, it appears that she may have run into some complications. The story includes a photo of Jill, Derick and the baby, with Jill lying in a hospital bed surrounded by hospital equipment. Luckily, according to People, both Jill and the baby are doing well.
Now for the name…when Jill announced she was pregnant, she mentioned that she and Derick were probably going to go with "family names" for their children, and shuck the tradition Jill's parents had created of naming all of their kids names starting with the same letter. (Her brother, Josh and his wife Anna have continued that tradition with their children's names.)
People reports that Jill and Derick named their son Israel David and that he weighed in at 9 lbs., 10 oz. (It's not surprising that he was such a big baby! He was overdue by more than two weeks!) The name is quite a surprise, as there doesn't appear to be anyone named Israel in either Derick or Jill's family. Also, most thought that Derick would pay homage to his late father by including his name, Richard, in the baby's moniker.
Congrats to Jill and Derick! We will get to watch footage of Baby Israel's birth in May, during TLC's Mother's Day special.
In just three months, we'll have yet another Duggar squeezing a baby from her loins. Anna Duggar is set to give birth to her fourth child in July!
UPDATE: New photos of Baby Israel have been posted to the Duggar's official Facebook fan page! Judging from Derick's hospital scrubs, it appears that Jill may have had to have a C-section. Also, we can clearly see a camera present in the first image, which means all of these "special moments" will be shown on the birth special in May. Click the images below to enlarge the photos below.
Jill's siblings started to congratulate the new parents via Twitter after the news broke on Tuesday. Jessa Seewald posted a picture of Jill, Derick and Israel, along with the caption, "Congrats to my sister Jill and brother-in-law Derick on the birth of their beautiful baby boy, Israel David Dillard! Born last night at 11:49 pm! 9 lbs, 10 oz & 23 in. long!"
Jill also posted photos of the baby to her Instagram, along with the caption, "So thankful to God for this handsome little guy!"
(Photo: TLC, Facebook, Instagram)