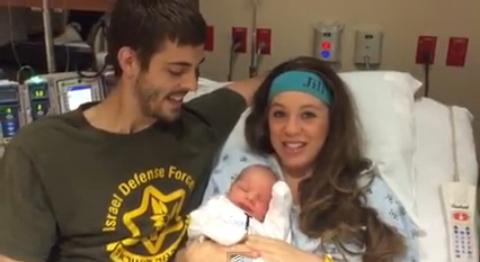 It's a very Duggar Tuesday, y'all! With news of the birth of Jill and Derick Dillard's first son breaking earlier today, 19 Kids and Counting have been looking to get all of the news on Baby Israel. (Click here to read The Ashley's previous story about the baby's entrance into the world.)
People magazine reported that Jill ended up giving birth in a hospital, despite the fact that she had stated that she planned to push the kid out in her giant bathtub at home. Photos posted by the magazine, as well as the Duggars, show Derick wearing hospital scrubs. Fathers typically wear these when their wives have C-sections, although it has not yet been confirmed that Jill did have to have one.
Jill did confirm, however, that the birth had its difficulties. (The kid weighed nearly 10 pounds, so this is no surprise!) Jill was nearly two weeks overdue, but did not want to be induced.
In a video posted to the Duggar Family's official website, Jill and Derick talk about the birth (and promote the upcoming TLC birth special, naturally).
"Not everything went as expected, so we were reminded of the verse that the Bible talks about where man plans his way, but the Lord directs his steps," Jill says in the video. "We were encouraged by that."
In the blog in which the video was posted, Jill's parents, Jim Bob and Michelle Duggar expressed their joy over the baby's birth.
"Yeah!!! Our sweet new grandson, Israel David Dillard is here," the couple wrote. "We love him so much already and we love his name! Our Jill is doing wonderful and Derick seems to have a permanent smile on his face now! Israel is precious and his arrival is just another reminder of how very precious life is and how every child is a gift from God. We are happy grandparents!"
Jill's labor and delivery will be featured on a special two-hour episode of '19 Kids and Counting' that will air on May 5. Click here for details on that!
Watch Jill and Derick's birth announcement video here: