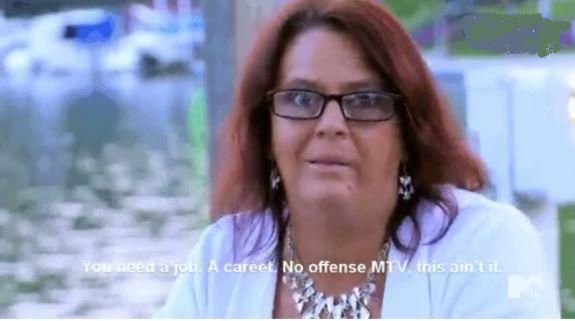 This week's episode of Teen Mom OG is entitled "Old Wounds." A name like that evokes so many ideas as to what this episode could be about! Will we be discussing Butch's prison shank wounds? Will the episode cover the emotional scars that Amber has after her daughter chose a bag of Cheetos over talking to her last episode? Will Maci accidentally cut herself on a beer bottle while trying to open it too fast?! So many possibilities!
Anyway, the episode starts off with Amber, who has gone down to ol' Rascal's Fun Zone (You know there's a lot of fun to be had at a place called Rascal's!). She's brought along Cousin Krystle's, who's always down to drive go-karts, get a pedicure or eat a meal, as long as it's on MTV's dime. (Hell, if she gets Amber to really "open up" on camera, they may even spring for Krystle to get a Rascal Dog and fries from the snack shack!)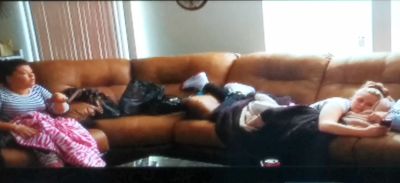 Amber tells us that after prison, she wrote a book (as you do), so she and Krystle will soon be going on a publicity tour. They are busy working lounging around Amber's house, and Krystle's all sprawled out (with her shoes on) on Amber's couch, discussing the book tour. Naturally, Amber's worried that someone will come to the book signing just to say mean things to her. Krystle reminds Amber that she's sober and has changed a lot since prison.
Over in Michigan, Catelynn and Tyler are painting a room in their house to prepare for the new baby. They are painting it purple (since it's a girl) and patching all of the holes that Butch most likely punched in the walls.
Later, Tyler goes out to lunch with his mom, Kim, who is ready to take him to task for not actually signing up for school like he promised he would when he placed Carly for adoption. (Tyler, you better get started! If you don't sign up soon, you'll be able to share a dorm room in college with Novalee! Everyone knows it takes at least nine years just to get an AA degree! Just ask Maci!)
Kim is easily becoming my favorite 'Teen Mom OG' character (other than Butch, of course). She tells her son that college isn't going to complete itself and that eventually this MTV gravy-train is going to crash harder than Butch after a drug bender.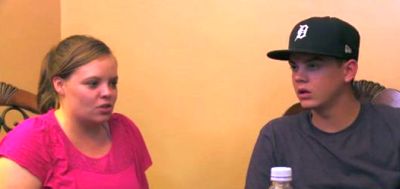 "You need a job!" she tells Ty before looking directly at the camera and saying, "No offense, MTV, but this ain't it!"
I felt like she was speaking just to me in that moment.
Tyler looks confused, as if he had never considered that there would eventually be a day in which MTV and a full camera crew didn't want to follow him around, pay for gender reveal BBQs and watch him and his wife girlfriend make more babies. Thank you, Kim, for saying what most of us fans have been thinking for years!
Tyler says that he's gotten sidetracked with a lot of sh*t lately, like impregnating his girlfriend and fighting with Farrah on TV, but Kim reminds his that his future career plans have to become a priority. She reminds Ty that Carly wants him to graduate too. Uh-oh, you know Kim means business when she pulls out the "C" card!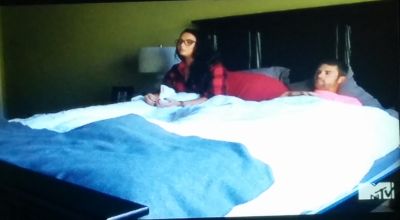 Finally we check in with Maci who is working hard in school, lying on her couch. Ryan is supposed to pick up Bentley for the weekend, but he's busy lying in bed, so that's a problem. One of them is going to have to get up to transport Bentley. #ParentingProblems. Perhaps one of the producers can drive him over?
Ryan has recently moved in with his girlfriend, Dalis Shelby, and apparently these two knuckleheads live in a gated complex. Ryan agrees to get out of bed and meet Maci at the car wash (?) if she'll drive Bentley over. It's the middle of the afternoon (we know this by the times they mention), yet all of these people are lying in bed or on the couch. WTF?
Bentley is less-than-thrilled when he finds out that he's going to his dad's house/car wash. (Has anyone else noticed how uncomfortable Bentley gets whenever Ryan is near him? It's actually really sad.) He begs Maci to let him stay at her house and starts to cry. Taylor tries to convince Bentley that he'll have a rip-roarin' good time at Ryan's. (He'll most likely get to watch his dad burp and stack beer cans.)
They head over to Ryan's car wash, arriving at the designated time of 1:30. As the clock strikes 1:30, we see that Ryan has not even gotten out of bed yet. At 2:10, Ryan still hasn't made an appearance, and Maci is getting mad. They have been sitting at the car wash for 40 minutes. Just then, Ryan calls, and (while slurping down an ice pop), yells at Maci for not calling him. Maci reminds him that they agreed on 1:30 and Ryan somehow tries to make it Maci's fault that he was late because he had to stop and get an ice pop or something.
Maci leaves, frustrated and Ryan calls her a name. During this whole thing, his girlfriend Shelby is just laughing. Why the hell would any woman want to be with a guy like Ryan, after witnessing how rude he is to his parents, the mother of his child and even his own son? Shelby, do you think that ol' Ry is going to help you paint a room purple when he inevitably knocks you up? Hell no. If he even gets out of bed to attend the labor, that would be counted as a "win."
Anyway, Maci tries to hide her anger because Bentley is with her. She takes him to Ryan's parents house, and Bentley declares that Ryan is always late. The producer encourages Ryan to call Maci, and yell at her for daring to leave after waiting 40 minutes.
Next, we check back in with Cate and Ty. Kim's words must've gotten through to Tyler because he tells Cate that he wants to get into film school. Tyler wants to get into "video production or whatever"  and would need to go to school three days a week. The semester would start after Nova's birth, so Tyler submits an application. They cheer as Tyler clicks the submit button. Um…let's not break out the graduation party plates just yet, guys…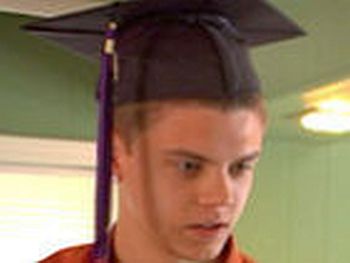 Next, they pick up April to go baby shopping. Naturally, April smokes during the drive over there (despite the fact that her pregnant daughter is in the car with her).
Hey, when Virginia Slim calls, you answer!
They head to the Modern Natural Baby store, where Catelynn and Tyler both try out a baby carrier. They head back home with their bounty of baby goods, and show April the baby's room. April declares that she will be purchasing Novalee's crib, which makes Catelynn and Tyler happy.
Back at Amber's place, it's almost time to go on tour. She wants to see Leah before she leaves, but has to get the OK from Gary. Meanwhile, Gary and Kristina are talking about how Leah keeps falling asleep in class, and that it's likely because she is spending school nights at Amber's house. Apparently Amber is a night owl, and is up until all hours of the night playing MASH with Cousin Krystle (or something). Also, Gary is making cookies during this conversation. Naturally.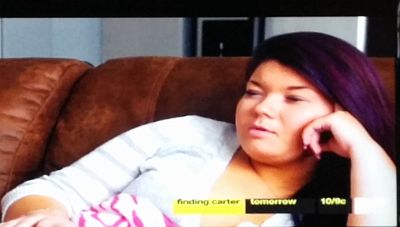 Gary tells Amber that she can take Leah but that she has to return her by 7. (It's just like a Blockbuster movie!)
Amber is not thrilled that Gary is trying to impose some structure on Leah, and that she will have to follow his parenting rules. Amber ends the conversation to prevent herself from going over there and beating the oatmeal raisin treats from Gary's mitts.
Amber confides in the trusty producer (who has yet to brush her hair even once this season. Come on, girl, you're on camera now. At least start wearing a hat if you're not going to groom your hair.)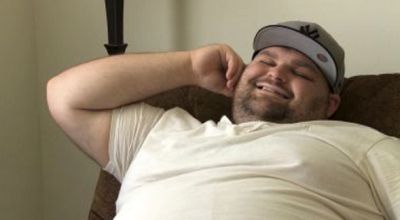 The next day, Kristina and Gary are helping Leah do her homework and Gary asks Leah what her "favoritist" thing about school is. Leah doesn't want to say, but finally declares that she enjoys lunch the most. Gary, too, enjoys lunch and declares, "I like to eat!"
Just gonna let that one slide right on by…
Gary decides it's time for him to go relax upstairs on his new recliner, leaving Kristina to help Leah with her homework. Leah reminds Gary that Kristina shouldn't be allowed to be on TV with her because Amber might see and get mad. Leah tells Kristina, "She don't wanna see you yet!"
Amber's not worried about that right now, because she's meeting with her managers to see her book. The manager shows her the book, and Amber declares that she doesn't like the cover photo. "Well, it's a little too late to change it," he tells her, before realizing that the book is actually called Never Too Late, so…awkward.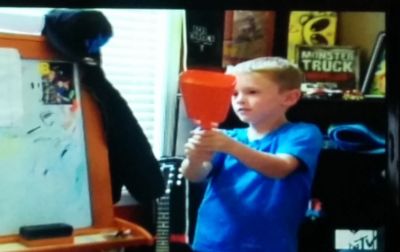 In Tennessee, the gang arrives at Ryan's parent's house to drop off Bentley. Maci doesn't want to discuss the whole Ryan Car Wash situation, so Ryan's dad tries to get the story from Bentley. Fifteen minutes later, Ryan arrives (in a sports car?!) Ryan's mom is helping Bentley gather toys to take to Ryan's, and encourages Bentley to take a giant cowbell with him. That will help Bentley wake Ryan up before 2pm.
Ryan sits with his dad and somehow tries to make it sound like Maci left because he was two minutes late. Shelby says that Ryan and Maci need a set schedule, and Ryan doesn't seem interested in the conversation. We know this because he's spending this time cutting his cuticles (or something) with a big knife.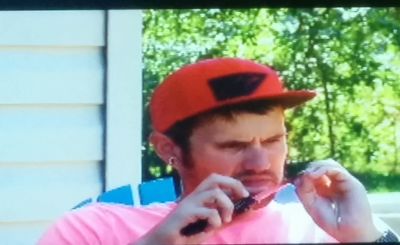 Shelby and Ryan's dad talk amongst themselves about how big of a douche Ryan is, while Ryan spits and eventually gets up to go mooch some food off of his mother.
In Michigan, Tyler is all caught up in baby fever, which has made him miss Carly more than usual. He shares a video of Carly on their Facebook fanpage, but that worries Cate,because she thinks that Brandon'n'Teresa will get angry about it. They want to keep Carly out of the public eye (and off of 'Teen Mom' fanpages), and have expressed this to Cate and Ty. They have asked them not to post any recent photos or videos of Carly so that her privacy can be protected and she can grow up normally.
Tyler doesn't think it's a big deal; after all, it was his sperm that made Carly. Catelynn is being reasonable, and trying to explain to Tyler why they need to follow Brandon'n'Teresa's rules if they want to keep a good relationship with them. Tyler brings up that Brandon'n'Teresa appeared on this magazine cover with Carly, so it's only fair that he gets to put Carly's face out there too.
Tyler starts to get all fiesty. He sends out a message directly to those people watching who are considering adoption. "Pick the right people!" he tells them. (I'm sure Brandon'n'Teresa just loved watching this! If Ty posting that video didn't piss them off, watching this episode surely will!)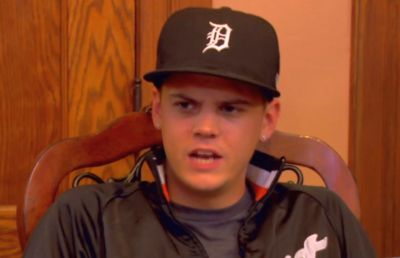 Ty says that Brandon'n'Teresa shouldn't have picked them as birth parents if they didn't want cameras around, but Cate reminds him that they had no clue that 'Teen Mom' would ever happen. Tyler wants Cate to just "pop this kid out" so he can have a new baby to focus on. He says he feels like he's been punched in the face by them, since he gave them his spawn when they couldn't make one themselves.
Oh no you did not!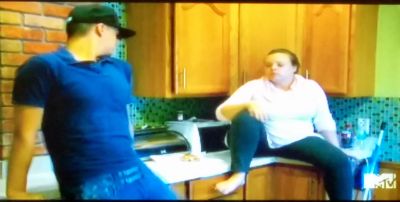 Sure enough, the next day, Tyler gets a call from Teresa, who is angry about the posted video. (What until she gets a load of what they say about her in this episode!) Tyler tells Catelynn (who is for some reason eating while sitting on the counter with her foot up?) that both Teresa and Brandon were very upset that he didn't follow their request. Kim comes over and Tyler tells her what happened. He's still being all salty about the whole thing.
Catelynn, meanwhile, is being completely rational and handling the situation like an adult. She says that she doesn't care if she can't post photos of Carly, as long as she gets to see her and have a relationship with her. Catelynn reminds Tyler that they have no rights to Carly at all, and that he needs to get off his high horse and accept that before they lose contact with Carly forever.
Then Catelynn hurls what could be taken as an insult to the other 'Teen Mom' girls. She says that Bentley and the rest of the 'TM' kids don't have a normal lives because their parents have put them in the spotlight. Ziiinger! (I would have expected that to come from Kim, not Catelynn, honestly!)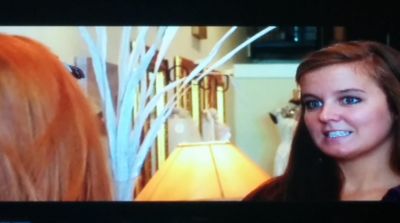 Meanwhile, we check in with Ryan, who's napping again. Maci, however, is at a bridal shop. No, she hasn't gotten Taylor to pop the question and buy her an engagement ring at Walmart; her friend Keelie is actually the one getting married. Maci will be a bridesmaid, a role she has filled many times, apparently. Keelie flaunts her big engagement ring to Maci, which makes Maci declare that Taylor needs to be asking her the big question.
Poor Keelie. This trip is supposed to be about her wedding, yet within two minutes it's totally transformed into yet another scene from the Maci and Ryan soap opera saga.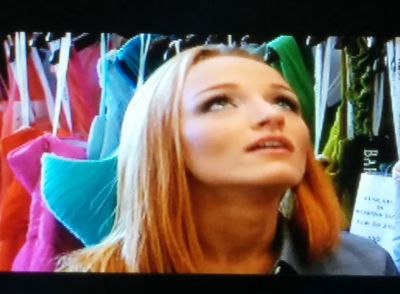 Maci remembers that it wasn't all that long ago that she was in this very dress shop, trying on wedding dresses to marry Ryan in. She thanks the Baby Jesus she didn't say "I do" to Ryan back then.
Maci makes an "appointment" with Ryan to discuss their issues, but isn't sure Ryan will be able to roll himself out of bed to attend. As per usual, Ryan is late by 30 minutes, but Maci goes ahead and orders pizza for him anyway. They start the conversation and Maci says that Ryan never answers his phone, and always has an attitude when he speaks to her.  He barely grunts an answer to most of her questions, but, hey it's before 2pm and he's out of bed. That's a big step, y'all!

Meanwhile, Amber is officially on tour! She has met with Teen Mom 2 star Kail Lowry, who recently released a book as well. They are like rockstars, and will be touring the country in a giant tourbus with their book covers on the side. For the first time ever, a 'Teen Mom 2' girl appears on 'Teen Mom.' It's really weird. It's kind of like those cross-over episodes that 1990s sitcoms used to do. Remember when Steve Urkel appeared on that episode of 'Full House?' Those episode always creeped me out a little.
Anyway, they mount the tour bus, and, of course, Cousin Krystle, is along for the ride (and probably packing bottle of water in her purse to take home). Kail asks Amber if she's ever done any publicity tours before, but Amber reminds Kail that she had been busy the past few years, what with being in prison and all. (Amber's full of more piss 'n' vinegar than usual this episode, isn't she?)
Amber hates being around people, but Kail encourages her to make the best of it and help other people grow from her experiences.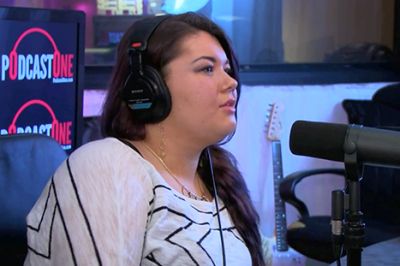 Amber flies to LA to appear on Dr. Drew's radio show, and she's very nervous. Meanwhile, Cousin Krystle is lounging on the couch and trying to indulge herself in that leather luxury and free coffee!
Dr. Drew talks to Amber about Leah, and Amber declares that she will eventually seek full custody of Leah.
We'll check back in with these knuckleheads next week! Until then, click here to read The Ashley's recap of last week's episode of 'Teen Mom OG!'
(Photos: MTV)