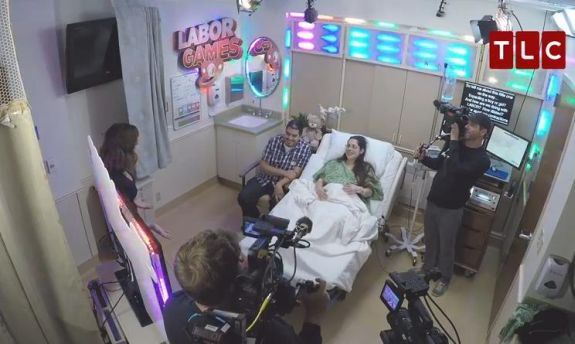 When it comes to reality shows about giving birth, we've seen just about everything. From shows about women giving birth in the woods, to shows about girls giving birth while they're still in high school, there aren't many unique reality show themes left when it comes to pregnancy and labor.
Somehow, however, TLC has managed to come up with a labor-and-delivery show with a fresh spin. The network recently announced that Labor Games will make its debut during TLC's "Mother of All Weeks" Mother's Day special. (The network will also air the Jill Duggar labor episode, as well as the premiere of The Willis Family that week.)
'Labor Games' is described as an "ambush game show in the delivery room." Unsuspecting mothers who are at the hospital waiting to deliver their babies will be given the opportunity to kill some time in between contractions by playing a game show.
"Host Lisa Arch surprises a couple – in labor – with a pop up game show to win prizes for their baby-to-be," a TLC press release about the show reads.
In a teaser clip of the show, contestants Lisa and Fernando are given the chance to play the game while they await their second child's birth.When Lisa asks them if they'd like to be on a game show, the couple seems shocked.
"Right now?!" the expectant mother asks, before agreeing. She is not yet at the pushing stage of labor, but does seem to be having the occasional contraction.
In a casting notice that The Ashley located online for the show, it appears that couples could sign up for the show if they knew they were having a baby at Pomona Hospital (located in Southern California) sometime between February and April. The casting notice states that "nothing graphic will be shown on camera," so don't expect 'Labor Games' to feature any 16 and Pregnant-esque birth shots.
The expectant mothers and fathers will answer seven questions during the show. Each time they get a question correct, they will receive a prize. According to the casting notice, the prizes can include things such as a year's supply of diapers, a cleaning service or other things that make the lives of new parents easier. The grand prize is "a chunk of money to put toward a college fund."
Another perk of going on the show? Contestants that were selected got upgraded to an extra-large delivery room at no cost!
The show will preview on May 9, but the network has not yet announced when it will start airing full-time.
Watch the teaser for 'Labor Games' below: