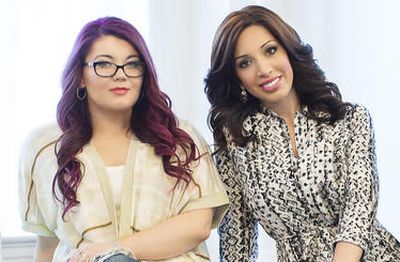 The fourth wall is down on the new season of Teen Mom OG, which means MTV is finally acknowledging that the show's stars are full-fledged celebrities. This has opened the door for the girls to have many more opportunities, including one The Ashley can exclusively reveal!
For the first time ever, some of the 'Teen Mom' girls and guys will be attending the MTV Movie Awards this weekend! Before this season, none of the 'Teen Mom' franchise stars had ever appeared at any of the MTV awards shows. (The closest any of them came was back in 2012 when Maci Bookout and Catelynn Lowell attended MTV's "Restore the Shore" charity event.)
Several sources have confirmed to The Ashley that Amber Portwood and her fiance, Matt Baier, as well as Tyler Baltierra and Catelynn Lowell will be attending the MTV Movie Awards, which will take place this weekend in Los Angeles. Farrah Abraham will also be attending the event. (Let's hope MTV has enough sense not to seat Amber, Matt and Tyler next to Farrah. Actually, on second thought, please do that, MTV, and put a body cam on one of them so we can all watch them catfight!) All of this info is as of today, but The Ashley will update if she hears any more about who is/isn't going to attend.
None of the Teen Mom 2 girls or guys will be attending.
The 'Teen Mom' producers offered all of the show's stars a chance to attend the awards show, but it is not known which other ones have accepted. (The Ashley can confirm, however, that Ryan Edwards and Gary Shirley will not be there, although they were invited.) MTV offered the tickets, but the 'Teen Mom' cast is responsible for getting themselves to LA to attend.
In the past, the 'Teen Mom' franchise cast has not been invited to events like this. According to one source, it is because MTV didn't want it to seem like they viewed the shows' stars as "celebrities." By having the Teen Moms attend events like this, it could be taken as the network  glamorizing teen pregnancy. Now that the fourth wall has been lowered, and viewers are able to see how the show is filmed and that the cast is very famous, it appears that MTV has rethought that idea.
The 'Teen Mom' crew will likely walk to red carpet before the show starts. If you are interested in watching the MTV Movie Awards, it airs on Sunday at 8 p.m. EST on MTV.
To read The Ashley's recaps of the latest episodes of 'Teen Mom OG' click here!
(Photo: MTV)