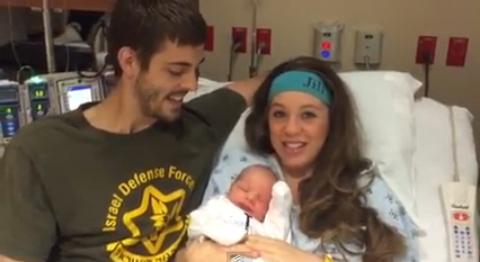 By Holly Rasmussen
Jill Duggar Dillard and husband Derick shucked Duggar family traditions when it came to naming their (big) little boy, whom they welcomed on April 6 after nearly 42 weeks of gestating. The couple chose to name their 9 pound, 10 oz. son Israel David, a name that surprised many 19 Kids and Counting fans, since it seemed to come out of nowhere. The couple has said that they will not follow the lead of Jill's parents, Jim Bob and Michelle Duggar, or her brother and sister-in-law Josh and Anna by giving their children names that all start with the same letter.
Jill and Derrick recently spoke out about the significance of the name they chose for their firstborn son. Israel, the place, has held a special place in the Duggars' hearts for a long time. According to the Duggar Family blog, Jill and her family traveled to Israel in 2011. Jill has stated that being in Israel, "made the Bible come to life." While in Israel in 2011, Jill, her brothers and sisters, Jim Bob and Grandma Duggar were all re-baptized in the Jordan River. Jim Bob also baptized Cousin Amy for the first time.
Also, as you may recall, the Duggars dealt with a scary issue involving Josie while they were in Israel. During the trip Josie, who had been a preemie, became sick. The doctors admitted to her a hospital and told Jim Bob and Michelle she was too sick to fly home. So Jill (who's always been a caretaker for the younger ones) decided to stay behind with Josie and Michelle until Josie was well enough to fly home.  Derick knew how much Israel meant to Jill so he decided to purchase Jill's engagement ring in Israel when he was on his way home from Nepal.
During the pregnancy, Jill said that she and Derick wanted to give their children family names. This is apparently where the baby's middle name, David, came in. They both have several people in their families named David. However, Derick recently shared on his Instagram his son's name above the Jewish Star of David, which may also play into the name choice.
It was also revealed on the Duggar blog and on the gender-reveal episode that if the baby would have been a girl, they were going to name her Selah, which is a word from the Bible's book of Psalms that means "pause and reflect."
The new baby isn't the only change the new parents will be dealing with. It was revealed by People that Derick had to take a break from daddy duty to head to the orthodontist, where he was fit for braces. No time like the present to address your crooked teeth needs, apparently. He's gotta get that smile looking good for all of the TLC footage!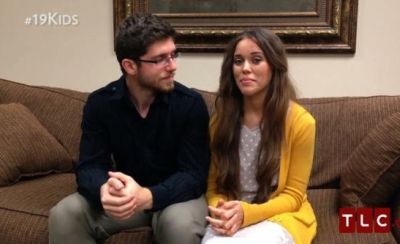 The magazine also revealed that Jill and Derick enlisted Jill's siblings James, 13, Jennifer, 7, and Joy Anna, 17, to be the "buddy team" that is supposed to "help make Israel feel welcome in the Duggar clan."
Anyway, we will get to see all of the action of Israel's birth on TLC Mom's special that will air on Mother's Day. While Jill had planned on having a home birth, (she is a student midwife) complications arose and little Israel was delivered in a hospital. Mom and baby are both doing well, now, however, but the couple has not released many details about the birth, except to reveal in a video that things "didn't go as planned."
(Photo: DillardFamily.com, TLC)