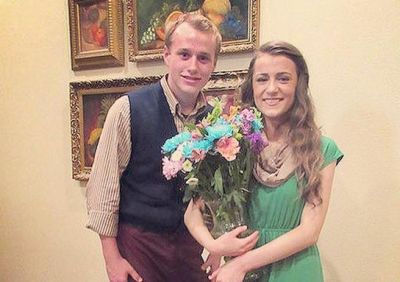 Another Duggar kid is officially courting!
People broke the news today that 18-year-old Josiah Duggar, the eighth child of Michelle and Jim Bob Duggar, has entered an official courtship with Marjorie Jackson, the 17-year-old daughter of his Spanish tutor.
Josiah's courtship seemingly came out of nowhere to 19 Kids and Counting fans, who were expecting Josiah's older brother John-David, or his older sister Jana to be the next Duggar to announce a courtship.
(Poor Jana. This girl must now endure another round of questioning as to why her younger siblings are getting courted and married off, yet she remains single. The Ashley feels for Jana– not because she's single but because she has to put up with this crap, while raising all of her parents' kids!)
Anyway, Josiah is one of the little-talked about "middle Duggar" kids. He doesn't get a lot of screen time on '19 Kids and Counting,' but that will surely change now that he is courting. (We all know that TLC loves a "Duggar kid in love" storyline!) Before this courtship, he was usually only discussed by '19 Kids' fans because there were rumors circulating that he was sent to the ALERT Academy, a Gothard run military-like school, because he was gay. (The Ashley is obviously not saying he is gay; she is just reporting what the rumors were/are.)
However, he states that he has been "noticing" Marjorie for a few years, since they met in Spanish class. (They were both home-schooled, so this took place at Marjorie's home.)
According to People, Marjorie is the oldest of five and "caught Josiah's eye" while they were both working during a mission trip to El Salvador in December. Josiah asked Marjorie to court on April 6, the same day that his sister, Jill, gave birth to his nephew, Israel.
"It's been going very well," Josiah told People of his relationship with Marjorie. "I met Marjorie a few years ago, when I was taking Spanish lessons at her house, and I was very impressed with the way she was with her siblings and her love for the Lord."
"I really appreciate the Duggar family," Marjorie told the magazine. "I respect and admire them. I will just take this one step at a time."
Now that Josiah and Marjorie are courting, they are free to go on (properly chaperoned) dates, side hug and get more serious in their relationship, just as his brother, Josh did with his now-wife Anna, and his sisters Jill and Jessa did with their husbands.
Josiah was also afforded a luxury that seems to only be given to Duggar kids that enter relationships: social media access! He joined the ranks of Josh, Jill and Jessa as a Twitter and Instagram user this morning. (None of the other Duggar kids seem to have any type of social media accounts, even the oldest ones.)
"I'm so excited to announce that I'm courting Marjorie Jackson!" Josiah, who goes by "@SiDuggar," wrote on one of his first Instagram posts.
Stay tuned: The Ashley will be posting all the details she could find on Marjorie very soon!
(Photo: Instagram)