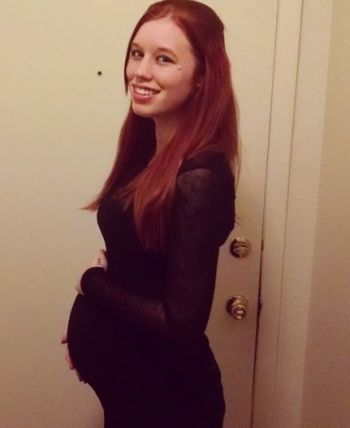 It's a boy for 16 and Pregnant star Megan McConnell!
The '16 and Pregnant' Season 2 star welcomed her second child earlier today, two days after her original due date. Megan, who gave birth to her now-five-year-old son Blake back in 2010 with MTV cameras rolling, seemed to have a much-less eventful labor and delivery this time around. In fact, she seemed to be a bit bored, even tweeting that she was just eager to meet her son.
"This is the worst part. I just want my baby nowwww," she wrote on Sunday night.
The 22-year-old ended up having to wait quite a while to meet her son; he wasn't born until early this morning.
"My sweet little baby Silas born this morning at 8:56," Megan wrote in a tweet that also included a picture of the newborn.
Silas is a Biblical name that was recently chosen by Justin Timberlake and Jessica Biel for their newborn son. It means "of the forest."
Baby Silas' father is Chase Eubanks, a guy whom Megan was introduced to through her '16 and Pregnant' co-star, Kayla Jordan (who, by the way, is due to give birth to her second child in August.) They have been dating about a year.
In an exclusive interview with The Ashley in August, Megan revealed that the pregnancy was not planned.
"I was shocked when I found out!" Megan told The Ashley. "I showed Chase the test and just stared at him without saying anything!"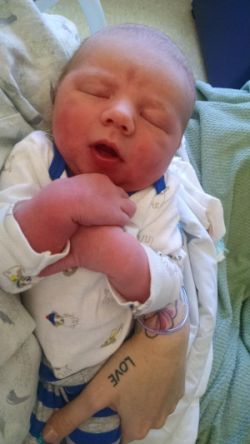 The couple moved to Fort Collins, Colorado, last year, where Megan works as a preschool teacher. Although the couple is not yet engaged, Megan told The Ashley in August that a wedding is definitely in their plans.
"We want to get married, but we don't know when," she said.
Megan was previously married to Blake's father, Nathan Stone. After Megan and Blake divorced in 2012, Nathan married another girl but that marriage ended in divorce as well. Megan currently has full custody of Blake. Nathan still sees his son, however.
Most of the girls who appeared on the second season of '16 and Pregnant' have had second children in the years since their episodes. Only a few girls from that season have managed to avoid a second pregnancy.  (Teen Mom 2 star Chelsea Houska is one of the last holdouts from the season!)
Girls from Season 2 who have had second (or third!) pregnancies include currently pregnant Kayla Jordan, Jenelle Evans, Nikkole Paulun (who's currently pregnant), Lori Wickelhaus (who just had her third baby), Leah Calvert, Kail Lowry, Felicia Cooke, Brooke Tarrant, Aubrey Wolters, Christinna Robinson and Ashley Salazar (who miscarried last year). Some of these pregnancies were planned, while others were not.
(Photos: Twitter)