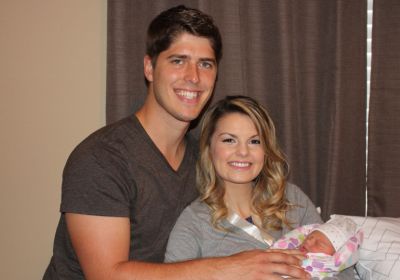 By Holly Rasmussen
The Bates family just got a little bit bigger! The stars of the Up TV reality show Bringing Up Bates  welcomed new grandbaby Allie Jane to the family on April 11. She was born to Bates daughter Alyssa and her husband John Webster.
Alyssa and John told OK! magazine they were, "ecstatic and grateful to receive this special gift."
The Bates are pals with that other extra-large family, the Duggars. Parents Gil and Kelly Jo have 19 kids and practice a similar form of conservative Christianity. However, their daughters are allowed to go to college, so they're not as strict as ol' Jim Bob Duggar.
Gil and Kelly told the magazine they are "beyond blessed" to welcome their second grandchild. Their first grandchild, Bradley, was born to their son Zach and his wife Whitney in October.
With 19 kids in each family, there's bound to be an eventually Duggar/Bates marriage. (That would be reality TV gold! Make it happen, Jim Bob! The Bates gals are a little wild for your taste because they go to college and wear shoes, but surely you can overlook that for the ratings!)
'Bringing Up Bates' will return to Up TV for its second season on Thursday, June 4.
(Photo: Bates Family blog)