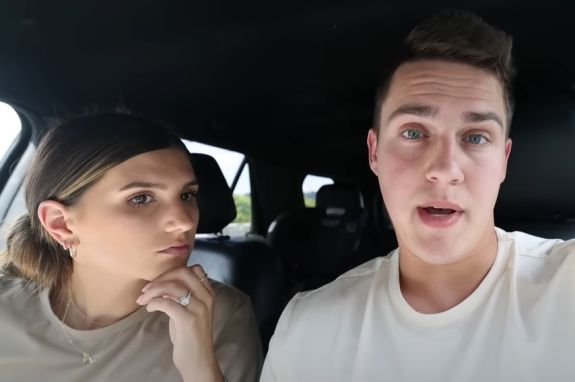 It's been a hard couple of weeks for Carlin Bates Stewart and her husband Evan.
In the most-recent vlog posted to their YouTube channel, the Bringing Up Bates stars revealed that Evan was recently fired from his electrician job, due to him having to take too much time off to care for Carlin. This is the second job Evan has lost this year. As The Ashley previously reported, UPtv cancelled 'Bringing Up Bates' unexpectedly in January, choosing not to air the eleventh season, which had already been filmed.
In addition, the couple stated that Carlin's health has continued to suffer. As The Ashley previously reported, Carlin has been suffering from seizures since the birth of her son Zade earlier this year. She has passed out numerous times over the past few months, with one time resulting in her falling backward and getting a concussion.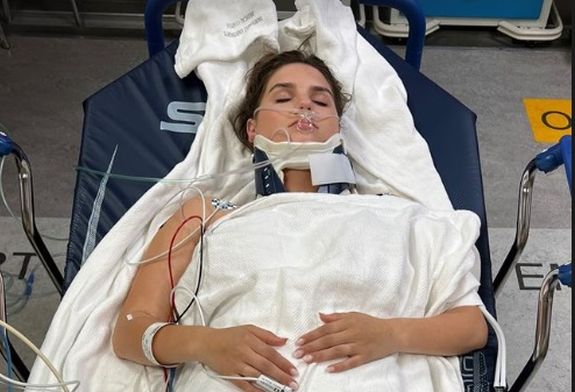 The Stewarts dealt with some backlash from fans over the vlog, which included footage of Carlin on the ground seizing, while their toddler daughter Layla watches her shake. While the video received plenty of comments of prayer and support on social media, some fans criticized Evan for putting Carlin's seizure footage online instead of simply sharing it with her doctors.
"Why do you have to show this? Poor Carlin needs help and privacy," one person wrote to Evan.
"Why would you film that? Shows that you only care about views and not the actual human that is your wife!" someone else commented.
"So sad for Layla to see this. Someone should of moved her," another follower wrote.
"Everyone on FB is freaking out that you posted this video of your wife in such a vulnerable state. Please consider removing that part," another person commented.
View this post on Instagram
After the footage of Carlin seizing is shown, Evan and Carlin spoke out about Evan being fired from his job recently. They revealed that Evan had taken too much time off from his job to care for Carlin and had been let go after his Family And Medical Leave Act (FMLA) time ran out.
Evan— who recently finished up his schooling and became a journeyman—stated that he had to take the leave after Carlin's doctors told her she could no longer drive or be left at home alone, due to her unpredictable seizures. It also leaves her unable to care for her kids alone.
"[I] need 24/7 someone watching [me]," Carlin said. "I sound like a baby."
"She hates it because, like we said, 90 percent of the time she's fine, but when she's not you've got to make sure someone is there," Evan added.
"It's been three months [since Carlin's health issues started] and it doesn't feel like it has," Evan said, adding that his company denied his request to have his FMLA time extended.
"All the FMLA at this point had been exhausted. So, pretty much, to be blunt, they would have to fire me. But that's no shade to them; they were very sweet and everything but that's just how it works. They would have to take me off their payroll so they did…I don't blame them. They don't want to keep somebody on their roster that can't be there."
Carlin clarified that Evan was not paid during the three months he was on FMLA. While he considered hiring a caretaker for Carlin and their kids while he got another job, Evan stated that it did not make sense financially for him to do so.
"I feel bad because I know he's putting his life on hold in a sense for me," Carlin said. "Because he's worked five years to get his [journeyman] ticket and he's worked really hard."
"Once you get [the journeyman ticket], you have it…For now I just feel it's best to freeze the ticket…I'll still always going to be a journeyman wireman but I'm just not going to be working with it," Evan added.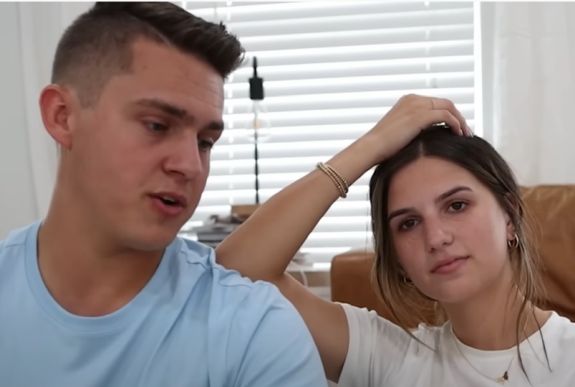 The Stewarts decided that Evan should join the staff at the Bates Sisters Boutique— the Rocky Top, Tennessee, clothing store that Carlin owns with her sister-in-law Whitney Bates.
"The boutique has been able to, like, hire him to help to fill in some of the gaps," Carlin said. "So that's helped us on the income basis."
"So [I was] fired and hired in the same day!" Evan joked. "And my wife is my new boss."
You can watch the full video below. (Once again, though, be forewarned that this video contains footage of a seizure.)
RELATED STORY: 'Bringing Up Bates' Star Carlin Bates Recovering From a Serious Concussion After Latest Seizure Episode Triggers Big Fall; Carlin Gives Update on Her Medical Issues
(Photos: YouTube, Instagram)