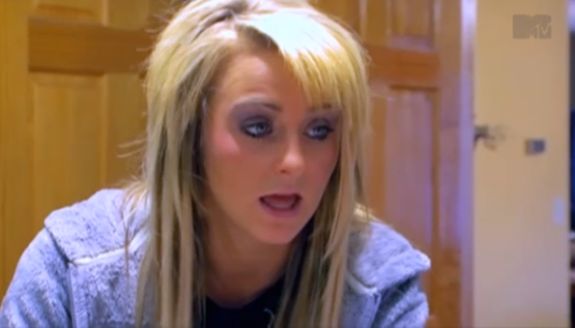 The saga of Leah and Jeremy Calvert continues! Today, In Touch Weekly released a story that stated that Leah had finally admitted that she has a prescription pill problem (something The Ashley told you last year), and that Teen Mom 2 show producers are ready and willing to send her to rehab on their dime. (Leah will appear on the cover of the new issue of the magazine.)
The story also claimed that Jeremy had (finally!) filed for divorce from Leah.
The Ashley investigated these claims and below is what her sources are telling her.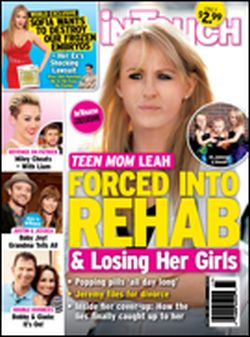 First of all, Leah is currently filming 'Teen Mom 2' Season 6, and a local source tells The Ashley that the paparazzi are in town and swarming.
As The Ashley you last year, Leah has been (allegedly) struggling with a prescription pill addiction for several years. This is nothing new. The producers addressed the problem very lightly when they showed footage of Leah zoned out on "anxiety pills." However, according to those close to her, it wasn't anxiety pills that caused problems for Leah. It was actually prescription pain killers, according to several people close to her.
A 'Teen Mom 2' source tells The Ashley that most of what is said in the In Touch story is true. The producers have obviously known about Leah's (alleged) problem with pills for a long time. Many of the other 'Teen Mom 2' cast members (both girls and guys) have been worried about Leah for a while, and a few have even reached out to the producers to see what can be done to help her. The producers had a very "Dr. Drew"-esque approach to things, saying that no one can help Leah until she's ready to help herself.
The source tells The Ashley that MTV will definitely be willing to help cover the cost of treatment, should Leah decide to go. The Ashley's source said she is still in denial that she has a problem.
Jeremy and Corey Simms, the father of her twin girls, can use the evidence of her alleged pill popping against her in their custody battles, which would give Leah a good reason to go to treatment. (Again, The Ashley is not confirming that Leah has agreed to go.)
If MTV pays for her treatment, they will be able to film her rehab stay, regardless if Leah wants to film it or not. If she pays independently, however, she can decline to have it film.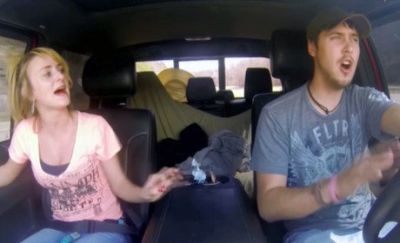 As for the report that Jeremy Calvert has finally filed for divorce (after he had planned to do it back in October/November), The Ashley still has not been able to 100% confirm it's true. However, he has told many people close to him that he has filed, and is even seeing another girl.
In Touch Weekly states that Leah was served divorce papers on April 14 at a grocery store parking lot in Elkview, West Virginia. The magazine states that Leah initially thought the person serving the papers was approaching her for an autograph.
"When she realized why she was being approached her mood totally turned," their source said. "She was clearly pissed."
The marriage is done, as The Ashley has been telling you for months. Jeremy has been over it since he found out about Leah's affair with Robbie Kidd (and she admitted it to him), but the pair seemed to be trying to make things work at the beginning of 2015. The reconciliation didn't work, and, as The Ashley told you recently, Jeremy actually called several people connected to 'Teen Mom 2' to give them his side of the story, most likely fearing that he would be edited to look like a monster when the Season 6 episodes aired.
For those that don't want to believe that Leah's fairytale marriage is over, just take a look at their Twitter accounts. Jeremy posted a music video for the Sam Hunt song "Breakup in a Small Town," which talks about how hard it is to split with someone when you have to see them all over town. He added "So damn true" as commentary.
Leah, in return, posted "You're Not Sorry" to her Twitter account, later clarifying to a fan that she posted it because it is the title of a song. She is likely talking about Taylor Swift's song of the same name that talks about finally being done with a relationship.
The Ashley has been telling you this since October: the marriage is done. A second source who lives in the same town as the couple says that Jeremy and Leah are no longer living together and that it's common knowledge around town that they have split up. Leah and Jeremy did not spend Easter, nor their three-year wedding anniversary, together. The Ashley is not sure how this saga will play out on 'Teen Mom 2' (or how it will be edited to look), but it will be covered.
UPDATE: (April 20) Leah's mother, Dawn Spears took to Leah's Facebook fan page to dismiss In Touch's story that Leah's going to rehab.
"Listen everyone all will come out on the upcoming show about Leah Dawn Calvert, Jeremy, Corey,Miranda, and the babies," Dawn wrote. "But rest assure I HATE drugs don't want association with them and wouldn't NEVER Condone them. Love ALL have a good night."
Her statement didn't exactly deny that Leah has a pill problem; it simply says that she's not going to rehab.
(Photos: MTV)