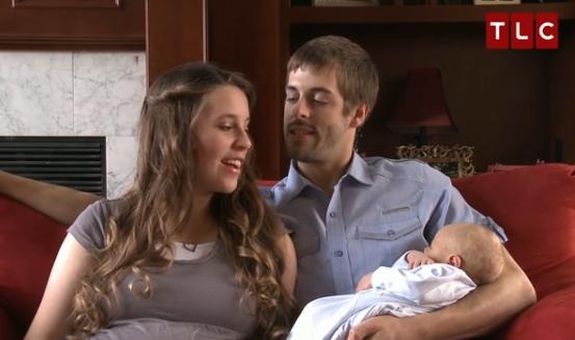 Jill Duggar Dillard has attended quite a few births in her life but nothing could have prepared Jill for the dramatic labor and delivery she endured to give birth to her first son, Israel David on April 6. Although Jill and her husband, Derick Dillard, had planned for Jill to have a natural delivery at home, she ended up giving birth in a hospital.
In a new interview with People, Jill and Derick have finally opened up about what happened during Israel's birth.
According to the couple, Jill's water did eventually break (despite that she was nearly two weeks overdue), but she was soon put on an IV to get antibiotics pumping into her because she tested positive for Strep B, a bacteria that can be harmful to a baby. Jill endured 20 hours of labor (with contractions one minute apart– Good Lord!) but was not progressing. When they saw signs that the baby was in distress, they gave up on the home birth and headed to a hospital.
While she gave up on the idea of having a home birth, Jill was still determined to have a natural birth with no drugs, so she declined the Pitocin, which is used to speed up labor. As a result, she spent 70 hours in labor before finally agreeing to have a C-section.
In a video posted to the People magazine website, Jill talks about how she's recovering after the delivery.
"I'm feeling great," Jill said. "I'm recovering well."
Jill has a lot of experience taking care of babies, as she helped raise many of her 19 siblings. However, raising a baby of your own is not the same, she said.
"It's definitely different, [raising]] your own versus your siblings or being around kids," she said.
While Derick said Israel's birth "definitely bonded" him and Jill as a couple, don't expect Jill to get pregnant just yet. It's likely that Jill and Derick prescribe to the same after-baby sex rules that her parents do, which means that they will not have sex again for at least 40 days after Israel's birth. (When her parents had a baby girl, they said that they abstain from sex for 80 days.) This is likely due to them following Leviticus 12 of the Old Testament, which talks about purification after childbirth.
Like her parents, Jill has said that she and Derick will have as many children as "God will bless" them with. However, after that extra-long pregnancy and horrific delivery, she may be rethinking her plan of shooting out 18 more kids!