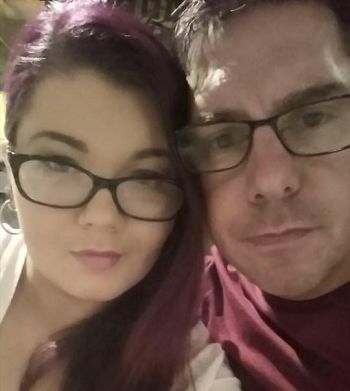 Amber Portwood took to Twitter on Thursday to report that she's hit a snag in her relationship with fiance Matt Baier. The Teen Mom OG star, who became engaged to Matt in November, basically told her 149,000 Twitter followers that her fiance cheated on her.
"Every man I give my heart to uses me and cheats on me @mattbEPT," she tweeted.
Amber, who recently said that she and Matt started out as friends before getting into a relationship, was shown plenty of support from her fans, who tweeted her encouraging messages.
"That's so sad you're such a wonderful person you will find the man of your dreams," a fan wrote to her in a tweet, which Amber retweeted.
When Amber confirmed her engagement last month, she talked about how great she and Matt get along, and how different Matt is from her former fiance, Gary Shirley.
"My life now with my new fiancé is amazing and our relationship is completely different than what mine and Gary's was," Amber said. "There's not really fighting or anything like that. It's not perfect, but we're so happy together. I never thought I could find another man that could make me feel love again, honestly. I feel more love for him than I ever have for anybody."
Matt is originally from Boston, according to Starcasm, and, at 43, is much older than 24-year-old Amber. They are currently living together in Indiana.
It seems that Amber has come a long way in the way she handles relationship troubles. A few hours after she announced that Matt had cheated on her, Amber revealed that she is giving her fiance another chance.
"We're going to try to work it out," Amber tweeted, adding in Matt's Twitter handle.
The couple recently spent the weekend in Los Angeles, where they attended the MTV Movie Awards alongside their 'Teen Mom OG' co-stars Farrah Abraham, Tyler Baltierra and Catelynn Lowell.
Matt has not made any comments regarding the cheating on his Twitter account.
(Photo: Facebook)