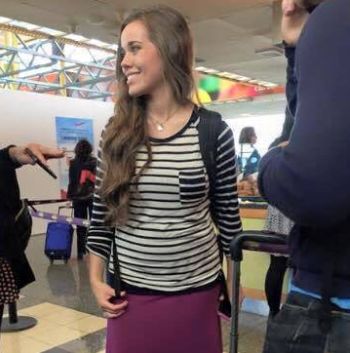 InternetLand has been in a tizzy lately over rumors that 19 Kids and Counting star Jessa Duggar is pregnant with her first child. Fans of the show have been quick to point out that Jessa, who has been married to Ben Seewald since November, has been sporting more of a tummy lately, which many think could be because she is carrying the next Duggar Family "blessing."
Jessa, however, flat-out denied the pregnancy reports during her appearance at the Southern Women's Show in Richmond, Virginia, yesterday. Jessa, who appeared at the show alongside Ben, was asked if she was pregnant during the Q&A portion of the chat. Jessa said she had "nothing to report" in terms of pregnancy, according to a show-goer that spoke with The Ashley.
Jessa is probably unable to reveal big news such as a pregnancy due to her contract with TLC, so if she is pregnant after all, she was most likely forced to lie about it.
TLC has been advertising that the Duggars have some "big news" to announce very soon. Jessa was also reportedly seen shopping in the maternity department of a Ross department store in Rogers, Arkansas, earlier this week.
While Jessa denied that she's pregnant, she did, however, say that she and Ben were not "protecting against" pregnancy.
Photos from the event, as well as several recent ones taken while Jessa and Ben were traveling to the event, do, indeed show Jessa looking a little fuller in the tummy region. Ben has said that the comments people make about Jessa having a "baby bump" have made his wife self-conscious about her weight.
"We fight about this," Ben told People in February. "Jessa thinks she's fat, but she doesn't remember all the times that people tell her that she looks great."
While she denied the pregnancy rumors during her speech, Jessa did say that she and Ben really want to adopt a child. However, they will have to wait until they've been married for at least two years before they can start adoption proceedings.
The Ashley had a reporter at the Memphis Southern Women's Show, where Jessa appeared last month. To read an account of her appearance, click here!
(Photo: Twitter)