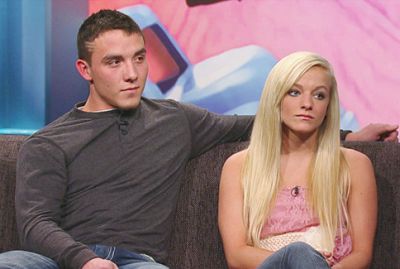 Please file this under "Unconfirmed but very likely" until The Ashley tells you otherwise.
Git yer banjos out, y'all! It looks like we may have yet another Southern-fried Teen Mom breakup on our hands!
TMZ is reporting that Teen Mom 3 star Mackenzie McKee has been dumped by her husband of nearly two years, Josh McKee! The site states that the couple recently got into a rip-roarin' fight over the whole "hog huntin' car crashin'" episode last month.
The couple's year-and-a-half-long marriage has "been on the rocks for a while," a "friend" of Mackenzie and Josh told TMZ, adding that last weekend things came to a head, with Josh leaving their home.
However, The Ashley believes this breakup may be profitable for the couple…it may just help them score another reality TV gig!
The "friend" told TMZ that Josh flushed Mackenzie's wedding ring in a fit of rage.
"They had a huge blowout last weekend, Josh said he was done, threw her ring in the toilet and stormed out," the site stated.
While The Ashley would usually not even bother reporting something like this until it was proven to be 100% true, she is posting about it because Mackenzie is in cahoots with TMZ and was likely the "friend" that sold the story to the site. (She even appeared on TMZ Live last month to talk about the hog huntin' fiasco!)
Another reason to believe this story is that Mackenzie's manager, Gina Rodriguez, basically confirmed it by retweeting the story on her Twitter account. (A side note: Gina was Farrah Abraham's manager when she made her sex tape.) Mackenzie's professional relationship with Gina is likely responsible for her suddenly having such a high TMZ presence all of a sudden.
Just by looking at the couples' social media accounts, the McKees appear to be the perfect young family. Just last week, the couple took their oldest son, Gannon, on a vacation. However a closer looks shows that everything may not be jolly in the family. Josh has removed the "Married" from his relationship status on Facebook already.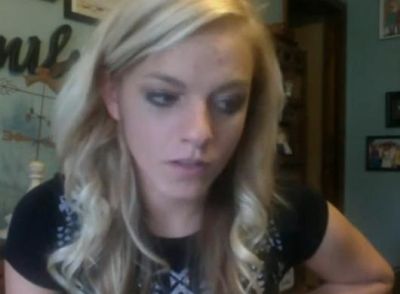 During a Skype interview with Get Real LOL on Tuesday, Mackenzie admitted that she and Josh were having problems in their marriage. When asked how her relationship with Josh was going, Mackenzie started to look uncomfortable, but finally answered the question.
"There are still ups and downs in the marriage," she said. "It's just how the relationship goes."
She hinted that she and Josh may be doing "other shows" (cough, Couples Therapy, cough) but that she wasn't able to say anything about that at the moment.
"I'll wait [to announce that] because there are a lot of shows pending…I will let you guys know which show I'm going to be on, or if I'm going to be on a show," Mackenzie added.
Side note: Mackenzie's manager Gina Rodriguez was managing Farrah when she got her gig on 'Couples Therapy,' and Gina manages several other 'Couples Therapy' alum, including Nik and Shayne Ritchie, and Tashera Simmons. Gina also manages Mama June Thompson and Sugar Bear of Here Comes Honey Boo Boo Fame. They've already confirmed that they've "been approached" to be on next season.
It's perfect timing, as 'Couples Therapy' was recently renewed and is currently casting its next season. How convenient…
Of course, Mackenzie and Josh have broken up several times over the course of their relationship. They even called off their wedding–twice!–with one of these call-offs taking place one month before their wedding! (They ended up getting back together and getting married, obviously.)
The Ashley will update this story when more info becomes available!
(Photos: MTV, YouTube)