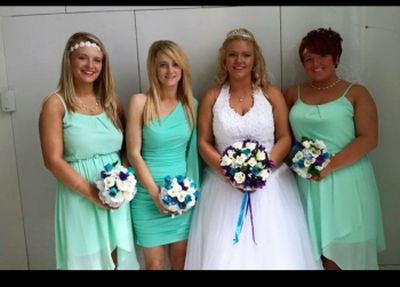 Leah Calvert's marriage to Jeremy Calvert is over, but the Teen Mom 2 star still managed to put on a brave face at her sister's wedding this weekend. Just as The Ashley told you she would, Leah's little sis, Victoria Messer, got hitched on Saturday to her boyfriend Brian Jones, and the entire Messer clan came out to celebrate the union…everyone except Jeremy, that is. The Ashley can confirm that Leah's husband did not attend his sister-in-law's wedding. Numerous wedding guests report that Jeremy was nowhere to be seen on Victoria's big day.
Jeremy may not have even been invited to the festivities, given that he and Leah have split and Jeremy recently had her served with divorce papers.
Leah, however, did attend the wedding, standing alongside her 20-year-old sister as she said "I do." This marks the first wedding for both Victoria and Brian. As Victoria's maid of honor, Leah wore a one-shoulder mint-green dress.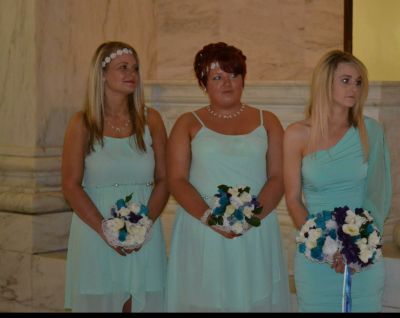 Victoria's wedding took place at the West Virginia State Capitol Building in Charleston. She continued on with the Messer wedding tradition of incorporating camouflage into things; her reception featured camo cake pops and, of course, a camouflaged hunting-themed cake.
Victoria is the only one of the three Messer children to avoid teen parenthood. Leah had her twin girls at 17, and her brother, Isaac Messer, recently became a father at the age of 18. She is also two years older than Leah was when, at 18, she married her first husband, Corey Simms. At age 20, Leah married her second husband, Jeremy, in April 2012.
Leah has not mentioned her sister's wedding on any of her social media accounts. She did, however, quietly remove the line in her Twitter bio that states she's married to Jeremy.
(Photos: Facebook)