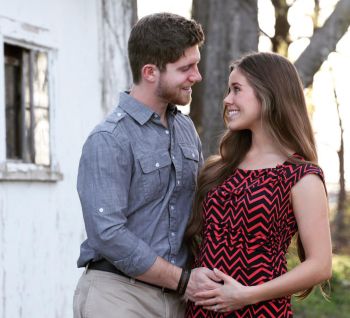 By Holly Rasmussen
In not-so-surprising reality TV news, Jessa Duggar Seewald has announced that she and her husband Ben Seewald are expecting! Jessa confirmed the big news to People magazine today, stating that she is currently 12 weeks pregnant.
"We are so excited!" she said. "Our due date is November 1st, our wedding anniversary."
There has been plenty of rumors circulating lately that Jessa was expecting (based on the tell-tale baby bump she's been sporting in recent pictures). Jessa and Ben had previously denied that they were expecting. As recently as this past weekend, the couple told the crowd at the Southern Women's Show in Richmond that they had "nothing to report" in terms of pregnancy.
Jessa told the magazine she found she was pregnant when she took a pregnancy test one morning before church. (Of course.)
"I said, 'Hey Ben! Guess what? Yeah, you're a dad,'" she told People. "We couldn't believe it."
When Jessa spoke at the Southern Women's show in Memphis last month, it seemed like she and Ben may have wanted to hold off on having a child for a while. She spoke about how they want to adopt and how they want to travel. Yeah, so much for that…for now, anyway.
The couple told People that they still plan to adopt, but they must be married at least two years before they can start the adoption process. (Why waste two precious years of marriage being childless when you can be popping out new members of the Duggar army?!)
Jessa is due in November, meaning she got pregnant sometime in January or February, after a few months of marriage. She did, however, wait longer to get pregnant than her older sister, Jill, who got pregnant with son Israel almost immediately after marrying Derick Dillard in June 2014.
In the interview, Jessa mentioned that she was glad to have taken some time to be with Ben as a married couple before starting a family. (Even if it was only a year from their wedding date, that's still a while by Duggar standards!)
"I think having this first year together to share our lives, just the two of us, has been special," Jessa told People. "We are definitely excited to be parents."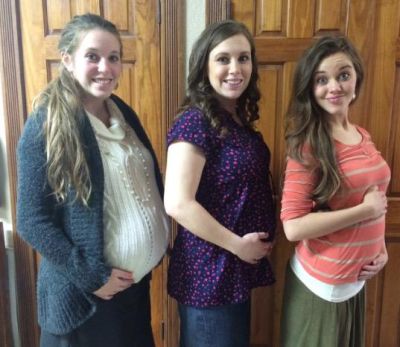 The couple is still very young: while Jessa is 22, Ben is only 19 currently. According to the couple, Jessa plans to be a stay-at-home mom (of course) and Ben works for Jim Bob.
Before Israel's birth, all of the Duggar family baby machines—Jill, Jessa and Josh Duggar's wife, Anna Duggar, were all pregnant at the same time. Anna is due to give birth to her fourth child in July.
"Congrats @JessaSeewald @BenSeewald on your pregnancy!" Anna tweeted today. "It was great to be pregnant together."
So…many…baby…blessings….
Marjorie Jackson—this is your fate!
Tonight's episode of '19 Kids and Counting', which airs on TLC at 9 p.m., will feature a special message from the couple.
(Photos: Twitter)