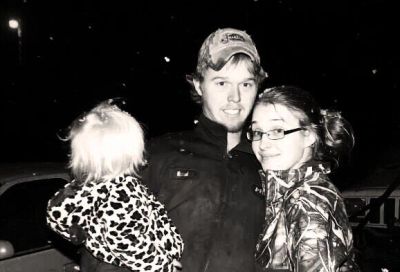 Here Comes Honey Boo Boo star Anna "Chickadee" Cardwell just announced via TMZ that she and her husband Michael are expecting their second child. Anna decided it was better to tell the tabloid website her big news before she told her mother, "Mama June" Shannon.
"If Mama June reads this it will be the first time she'll learn she's going to be a grandma 2 times over," the site reported. "June was calling the shots after Anna's first baby, [three-year-old] Kaitlyn was born, but this time June will be allowed to visit when Anna's around, but that's it."
Anna has had a somewhat icy relationship with her mother since June was caught dating Mark McDaniel, a convicted child molester whom Anna has said molested her when she was eight-years-old. That relationship caused TLC to pull the plug on 'Honey Boo Boo' in October. Anna seems to be worried that June may bring her grandchildren around less-than-savory people.
"She doesn't trust her mom's judgment anymore, because when she was younger, June would leave her with various people for long periods of time," states TMZ. "One of them was child molester Mark McDaniel. Anna says the only men who she'll trust with the new baby will be her husband and Uncle Poodle."
June has responded to Anna's pregnancy announcement, stating on her Instagram account that her daughter texted her the news and that she didn't find out from TMZ. (The Ashley has edited the photo caption to make it readable, because, as we all know, June isn't much for the readin' and writin' and such.)
"Well guess who will be a Gigi and aunts again in December? We will," June posted in the caption of a photo showing her and her daughters. "[Anna] texted me late last night and told me she was 6 weeks as of Thursday. As they are too young to have another one I will support her and Michael but Kaitlyn will always be Gigi's first baby."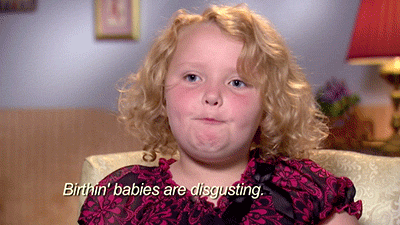 "I'm not going to sugar coat it. I'm nervous for them as I know they are struggling with just them and Kaitlyn right now and adding another one is going to be hard and they are in a different state for me to help her out like I was able to help a lot with Kaitlyn but going to try to be supportive as possible ….congrats."
In addition to becoming a mother again, Anna also seems to be planning to reenter the reality TV arena–without her mother. In January, she told TMZ that she is trying to pitch a reality TV show that stars her and her husband and their (soon-to-be) two kids.  A few weeks ago, Anna was asking her fans on Twitter if they knew any managers that could help her make her reality TV dreams come true.
One manager responded, and Anna told him she's willing to do "any kind of TV but nothing sexual," so it sounds like there will be no "Backdoor Chickadee" adult films coming our way.
Speaking of sex, Mama June and Anna's sister, Lauryn "Pumpkin" Shannon, just came out as bisexuals in an interview with Inside Edition yesterday. Anna was probably none-to-happy that her mother and sister chose the day she announced her pregnancy to make their big announcements. Anna, consider your thunder officially stolen!
(Photo: Twitter, TLC)