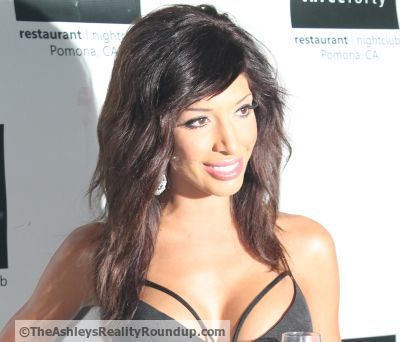 By Holly Rasmussen
Farrah Abraham is back on Teen Mom OG and not everyone is happy about it. During the last five minutes of last week's episode, viewers finally got their first glimpse of Farrah…and watched her be a bi-otch to everyone around her. The show's producers weren't the only ones unhappy about Farrah's reappearance. In fact, over 1,000 'Teen Mom' fans are attempting to get Farrah (and her backdoor) kicked off the show!
A petition has already been started on Change.org that pleads with MTV and the show's producers to boot Farrah from the show. At press time, the petition has over 1,300 supporters.
In the preview for the next episode, we saw Farrah's co-star, Maci Bookout having a hissy fit when she finds out that Farrah is returning to the show.
"Y'all can just leave right now. I'm done," the soon-to-be mom of two drawled to producers upon hearing the news. It has been reported that Maci refused to let her son, Bentley (and most likely her unborn baby girl) be filmed on the show once Farrah returned. (Oh, no! A show without Bentley is no show at all!)
If it comes down to a showdown between Farrah and Maci, it seems that Maci definitely has the majority of the show's viewers on her side.
"Why would MTV trade a positive role model, like Maci, for a bratty, disrespectful, hateful, nasty, p0rn star, whack job?" the petition reads. "MTV should be ashamed for promoting Farrah, her lifestyle, sex toy line, and p0rn on a show with children…a show that is meant for teen girls."
Several commenters agreed.
"I believe putting a p0rn star on a show where the main audience is teens is irresponsible," commenter Kimberly Howell wrote.
"I would rather see Maci and Bentley before ever seeing Farrah. With MTV bringing her back they are sending a message to young girls that her lifestyle is okay! I'm not happy with this decision at all," wrote Katrina Summit.
While Maci is the only one 'Teen Mom OG' cast member we've seen react negatively on camera  to Farrah's return, other cast members may have similar feelings. In an interview with E! News in March, Catelynn Lowell stated that she questions whether or not Farrah belongs on a show meant for teen girls.
"At first, for a little bit, we were kind of OK with it," Catelynn said. "Until we really sat down about it and were like 'Um, we don't know how good this is for the moral compass of the show?' Like, we are trying to educate girls about good things, not so much the sex industry part."
Farrah isn't on the best terms with her other co-stars either. Just in the past few months, Farrah has started Twitter feuds with Gary Shirley, Amber Portword, Tyler Balterria and even Catelynn's biological father, David Lowell. Tyler's dad, Butch Baltierra, however seems to have no problem with Farrah. In fact, in a recent episode, he joked that he was down to shoot a p0rn with her.
So far, Farrah has not commented on the petition (or the Butch p0rno).