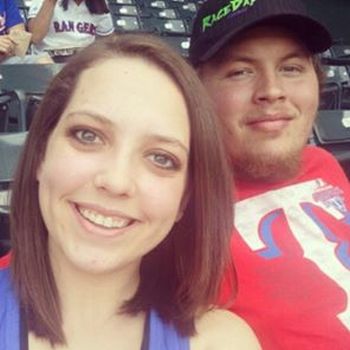 The 16 and Pregnant marriage curse has apparently struck again!
Brooke and Cody Tarrant, who were featured on the second season of the MTV reality show, have reportedly split after nearly six years of marriage. The couple got hitched in August 2009, during the filming of Brooke's '16 and Pregnant' episode. They are best remembered for moving into a restored barn after their son, Brody was born. In 2012, Brooke gave birth to the couple's second child, a daughter named Ryley Jean.
The Texas couple has kept a relatively low profile since starring on the reality show, but Cody recently made it clear that his marriage to Brooke is over. Earlier this month, he announced (via Facebook) that he is in a relationship with another woman. The split appears to have happened sometime in 2015, as the couple was still posting photos together in December.
Brooke and Cody were very young when they got married. Cody was 17 and Brooke was only 16. They are now in their mid-twenties. While the couple may have split, they are still Facebook fans, and The Ashley was unable to find any filings for legal separation or divorce for them.
Brooke currently works for a printing press, while Cody is employed at an electronics store.
Unfortunately, theirs is just the latest '16 and Pregnant' marriage to end. Nearly all of the marriages that got their start on the show have ended in divorce. With the demise of Brooke and Cody's marriage, that leaves only five '16 and Pregnant' marriages intact: Season 4's Mackenzie and Josh McKee (although they are reportedly having trouble in their marriage), Season 4's Myranda and Eric Kennemer, Season 5's Karley and Tony Shipley (who split last year but got back together), and Season 5's Summer and DJ Rewis (who also split but have since reconciled). Season 3's Jordan and Brian Finder are reportedly still together as well.
The rest of the '16 and Pregnant' marriages have ended in divorce. This includes the marriages of Ebony and Josh Rendon, Leah and Corey Simms, Lizzie and Skylar Sickles, Emily and Daniel Peterson, Aubrey and Brandon Akerill, Christinna and Isaiah Robinson, and Megan and Nathan Stone.
(Photo: Facebook)