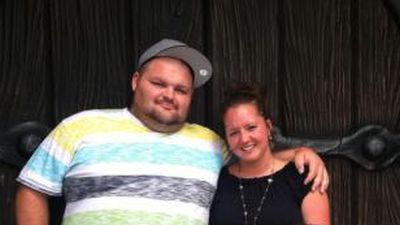 It's baby time for Teen Mom OG star Gary Shirley and his girlfriend, Kristina Anderson! The reality stars welcomed a baby girl late last night. The baby, whose name has not yet been released, is the second child for Gary, who has daughter Leah with ex-girlfriend Amber Portwood. Kristina also has daughter Karley with her ex-husband.
It appears that Kristina was induced last night, as Gary seemed to know the date that Kristina would give birth. Last night, he tweeted that they were heading to the hospital and, two hours later, that the baby had arrived safely.
From what The Ashley hears, the baby weighed in at 7 lbs, 11 ounces.
Leah seems to be thrilled to have a little sister.
"Leah's been praying everyday that the baby would come, and that Kristina would be okay!" Gary wrote on Twitter before the baby's birth.
Gary, too, seems to be relishing in becoming a father again. He tweeted that he was cuddling his new baby girl after her birth.
'Teen Mom OG' fans watched as Gary and Amber argued over Gary becoming a father again, with Amber stating that Gary had told her that he didn't even want another baby. After the episode aired, however, Gary clarified via Twitter his feelings on becoming a dad again.
"Everyone needs to remember it's a show & I always wanted my baby!" he wrote. "I wanted 2 wait to have another, but plans changed and I'm very happy! I really appreciate all who understand! And everyone who has stood beside me and not judged truly means a lot!"
Gary just purchased a new home for his growing family to live in, which he had been working to get fixed up before the new baby's arrival.
"Very happy to be a dad again! I said 'I wasn't ready' never said I didn't want my baby!" he tweeted last month. "My words were twisted. I'm very excited. Ur nvr ready 4 a baby even if it's planned, I was more shocked I think, but I'm completely in love with her. She hears me & starts kicking. I bought a house for my family & I'm doing my best to get it ready 4 her! Because my family deserves the best & I want my girls to be happy."
The stork has surely made its rounds of the 'Teen Mom OG' cast. In January, Gary's co-stars Tyler Baltierra and Catelynn Lowell welcomed daughter Nova, and Maci Bookout is due to give birth to her little girl, Jayde, in June.
So far, Amber and Farrah Abraham are the only 'Teen Mom OG' girls that have not gotten pregnant again; however, Amber is currently engaged and Farrah is in a relationship, so we may be hearing more pregnancy announcements soon. (Of course, we know Farrah enjoys her sexy time in the backdoor, so there may not be any possibility of a Farrah spawn.)
MTV has finished filming 'Teen Mom' Season 5, so it's unlikely the birth of Gary's baby will be included, unless MTV decides to add clips to the final episode or reunion special.
Anyway, congrats to Gary and Kristina!
(Photos: Facebook)