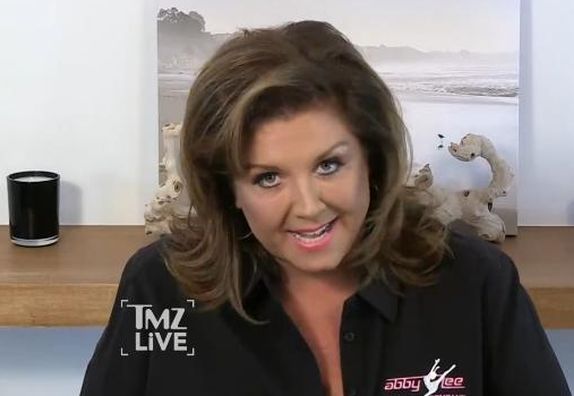 By Holly Rasmussen
Notoriously mean dance coach Abby Lee Miller is back in the spotlight for her cutting remarks. But this time, she's aiming them at her show's producers instead of small children.
The Dance Moms star spoke with TMZ Live on Wednesday about her disdain for the new producers of her show. "Twiddle Dee and Twiddle Dumb is what I like to call them," Abby said.
According to Abby, her popular Lifetime reality show has taken a turn for the worse since the new producers were hired. She claims much of the drama on the show is manufactured by producers for ratings.
"They push you to the brink of exhaustion and to the brink of losing your mind,"" Abby said. "They don't watch the show. They don't know what's going on. They don't know anything about dance. It's difficult to work with them."
Abby went on to state the producers should have more respect for her since she "makes them a lot of money." In fact, she doesn't even think she needs the producers around.
"We don't really need producers. I can probably make a kid cry in 30 seconds," Abby bragged. (Wow. That's really something to be proud of!) "I know exactly what to say to a child to make them run to their mother and get their mother all ticked off.
"I just don't think the show should be over-produced," she added. "We should just let things happen that happen – it's competitive dance… sparks fly!"
Abby even revealed that she had the power to have the producers fired, but she didn't.
"I don't want to be responsible for anyone losing their job," she said. "Some people bury themselves, by themselves," she added. (Burn)
Abby, never one to take the high road, is currently involved in multiple lawsuits with former dancers and their parents. Abby and the production company both are currently involved in a lawsuit with Kelly Hyland (mother of ex dancer Paige) regarding manufactured drama on the show. Kelly claims the producers egged her on to pull out Abby's hair Bumpit during an argument. (The weave is the first thing to go in a fight.) Kelly also claims the producers wouldn't let her leave after the fight.
Abby is looking noticeably skinnier these days; it's rumored she had lap band surgery. She hasn't, however, lost her ability to cause drama.
'Dance Moms' is currently airing on the Lifetime network. Watch Abby's interview below: