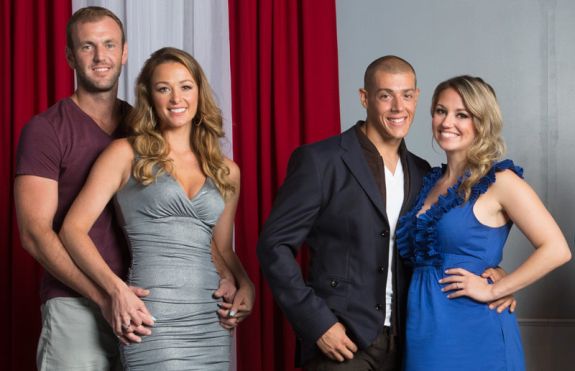 Will there be a 'Married at First Sight: The Second Year?'
That's what fans of the hit FYI show have been wondering ever since Married at First Sight: The First Year season ended in March. While the show, which features two of the couples from the first season of Married at First Sight as they continue their journey as newlyweds, is currently airing in its second season with a new cast, diehard fans are jonesing to see more of the Season 1 cast.
"Can't wait for more 'Married At First Sight: The First Year,'" one fan wrote on Twitter. "The original couples are so much better!"
"Proud of you guys. I keep bugging AETV n FYI to grow a pair and get a season 2 or your own show," one fan wrote in a tweet to Doug, which Doug retweeted.
Despite the show's decent ratings, the FYI Network had yet to announce whether or not it would continue following the stories of Cortney Hendrix and Jason Carrion, and Jamie Otis and Doug Hehner into their second year of marriage.
The Ashley reached out to the network to get information on the future of the spin-off show.
Unfortunately for fans of "Team Jortney" and "Team Damie," it's not looking good in terms of the show coming back on the air.
"We have not renewed MAFS: The First Year for another season," the show's senior director of publicity told The Ashley on Friday.
When pressed further, the publicist said that this was the network's decision at "the present time" so there is still hope, fans! However, it's unlikely that the show will continue with Jamie, Doug, Cortney and Jason if it does get renewed. The 'First Year' will probably begin again with the Season 2 couples that stay together, if anything.
While we may not get to see them back on the FYI spin-off show, it appears that both Season 1 couples are doing well. They celebrated their one-year anniversaries in March, and Jamie recently took Doug's last name as her own, telling People she felt it was the "final sign of commitment" she needed to make to Doug and their marriage.
'Married at First Sight' will be getting a third season, as the show's producers are currently casting the next couples who will be getting hitched.
The Ashley will keep you posted on all 'Married at First Sight: The First Year' news!
Click here to see if your other favorite reality shows have been renewed or canceled!
(Photo: FYI)