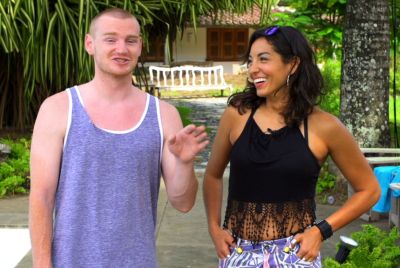 Theresa Gonzalez has a good reason not to return for the next season of MTV's The Challenge: She's pregnant!
She announced this morning on Instagram that she is currently "with child."
"In honor of Momma's Day just around the corner… Just wanna show the world our little bambino's first photoshoot!! Due Date is Thanksgiving Day! Real Life Butterball #ImGonnaBeAMomma #FitMom #BlessingsOnBlessings," Theresa posted in the caption of her sonogram photo.
Oh, and, Wes Bergman, there's some good news for you: You are NOT the father.
The baby's daddy is actually Theresa's boyfriend, TJ Jones, who is a wide receiver for the Detroit Lions. They have been dating since November. Before TJ, Theresa dated (or had "relations" with) 'Challenge' stars Wes and Leroy Garrett.
Theresa has been a regular on 'The Challenge,' starring on six seasons of the MTV reality competition show. She first came to the show on Fresh Meat II and is one of the few cast members to compete on 'The Challenge' who never appeared on The Real World or Road Rules. On last season's "Battle of the Exes II," she and former fling Leroy took home $70,000 for finishing second.
Her pregnancy will obviously prevent Theresa from taking part in the next 'Challenge,' which The Ashley's sources tell her will start filming next month. (More on that new season coming soon!) In fact, Theresa stated on Twitter that her 'Challenge' days may be over for good.
When asked in March by a fan if she was going to return to do another season of the show, Theresa wrote, "Nahh, I've got career goals I want to accomplish–gotta put this brain to better use."
Many of the 'Challenge' mainstays have recently retired from the show. Paula Meronek had a baby last year and seems to be done with the show. Also retired are Sarah Rice, who won "Battle of the Exes II" with her partner, Jordan Wiseley, and Jemmye Caroll who has stated that she has no desire to do the show since the passing of her ex-boyfriend, Ryan Knight.
(Photo: MTV)