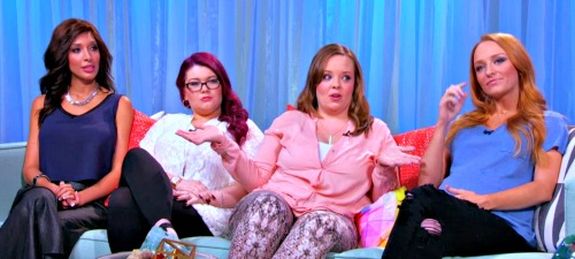 Howdy, kids! This is the recap y'all have been asking The Ashley for all week! On this week's episode of Teen Mom OG, basically Maci Bookout talks a big game and seems to want to rip Farrah Abraham a new a**hole (aside from the one James Deen decimated)…until, of course, she actually comes face-to-plastic-face with Farrah and then she gets all scared. The Ashley is not here to debate whether Maci or Farrah was right because, frankly, she doesn't care. She really just wanted to watch them rip each other's faces off. And that didn't happen so…let's get started!
The episode kicks off at Catelynn and Tyler's house, where they are packing for their upcoming trip to New York City to do press for 'Teen Mom.' Tyler can't believe how much stuff they have to pack to bring Nova on the trip. (After all, when they used to bring Butch, they'd only have to bring something to cut off his court-ordered ankle bracelet! Oh, and a couple hundred packs of ciggies, of course.)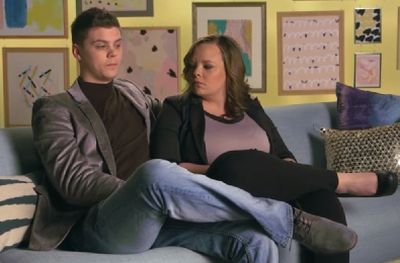 Cate just had a baby, so she's stressing about finding something to wear for the photo shoot. Tyler, always the master of tact, suggests she scurry on down to the maternity store and go buy some sort of pregnancy dress. Um…why don't you just send her to Omar the Tent Maker, Ty? Good Lord.
Farrah is already in New York because she wants to bone her boyfriend, Simon, before the other Teen Momers get there. They get into a limo and start kissing . Well, actually, to be fair, Farrah is kissing Simon, and Simon looks like he is just waiting until she turns her head to bust out his travel hand sanitizer and rub it all over the spot she kissed.
Farrah starts talking to the limo driver, who obviously recognizes her from her p0rn flick and is hoping she starts doing the same stuff she did in the limo when she was with James Deen.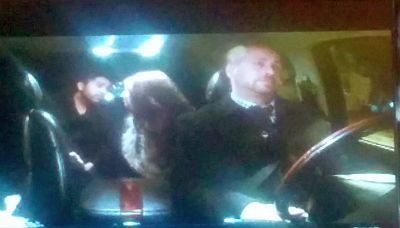 Instead, the limo driver and Simon start  talking about how much marriage sucks because all it means is that you are constantly nagged. Farrah, who is possibly the most grating person on Earth, is not amused.
The next day, Farrah's bitching about Simon's comment about marriage. She tells him that she's looking to get hitched ASAP, and the fact that Simon hasn't already proposed is worrisome to her. This whole time, mind you, Simon looks like he'd rather chew his own arm off than tell Farrah there's a chance he'd marry her.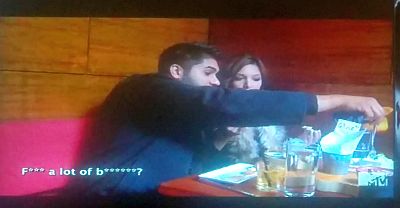 Can you imagine?! A lifetime of that weird baby voice, her putting photos of herself all over their house and being forced to appear on low-rent reality shows. That's a fate worse than death.
In Indiana, Amber and Matt are (where else?) sitting on the couch, when producer Heather tells them that they will have to actually spatula themselves out of the living room and head to New York to do press. Amber's not thrilled with the idea of getting up, but Matt seems excited about the free trip to "New Yaaahk."
Maci and Taylor are also preparing for their trip. Taylor brings up Maci's decades-long quest for her AA degree and asks if Maci will be starting school. "I'm not going this semester," she tells him. "I can't work, be traveling all over the place for the show and….and…Bentley's playing baseball…and he's in school and…"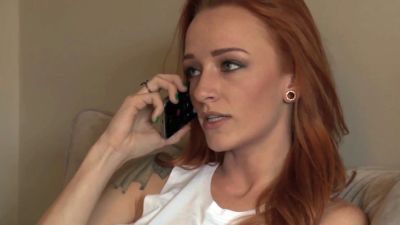 Um…apparently only one person in the household can be in school at a time?
Also…since when does posting a few sponsored tweets a day count as "having to work?" COME.ON.
If Maci put half the time into going to school as she does coming up with excuses why she can't go to school, she'd literally be a doctor by now. Seriously, she could go into practice with Dr. Drew and sit on the other side of the couch at the Reunions and make chicks cry. I just…can't…
Taylor apparently has a real job (like one that's not on Twitter) so he will only be able to attend some of the New York festivities. Maci is nervous to see Farrah for the first time in years, and is especially nervous to see how Farrah will react when she finds out that Maci quit the show over her.
Later, the girls have touched down in NYC, and are heading to their first photo shoot together in years. Farrah is pleasant to Maci, so she obviously hasn't seen the clip of Maci quitting. (Don't worry; MTV will fix that in a jiffy!)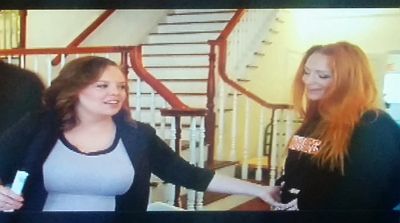 Catelynn rubs Maci's pregnant belly awkwardly and the girls all chat. Maci holds Nova as Amber arrives. The gang all meets Matt, whom Amber introduces as her fiance.
Things are going well as the four girls all take pictures together for the new season. Everyone seems happy, and the day ends on a good note…until the girls discover that the season's trailer has come out. Farrah has already left, but Maci and the rest of the gang watch it together and see that Maci quitting because of Farrah will play a prominent part in it.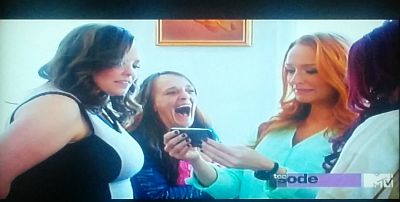 Maci looks more scared watching that trailer than Gary Shirley does when he opens the fridge and sees nothing but diet soda and apples.
Anyway, Farrah goes back to the studio to film her MTV interviews. (Farrah always looks like she's shooting her own mini documentary within the Teen Mom show. I feel like she actually narrates her life in her head as she lives it. When she walks into a room, she thinks, "Farrah walked into the room, looking fabulous, and made note of the bright lights, something she'd become accustomed to while living this glamorous Hollywood life.")
Maci and the other cast members are at dinner while Farrah is alone on the set. They're all stuffing their gullets with pizza, and Matt seems amazed that he's allowed to have as many brownies as he wants while on set.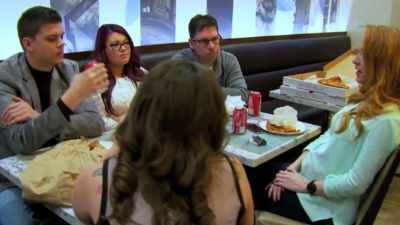 They all small talk about chocolate chips or whatever until Maci brings up that she doesn't want her son on a show with a big ol' p0rn star. She explains that kids will ask Bentley if his mommy is the one that took it up the pooper in the sex tape.
UM?! Just what kind of kids does Bentley go to school with?!
Amber's trying to stay out of it, and brings up that she's done a lot of crap in her life that won't exactly make her daughter proud. She then regales the gang with the tale of how Vivid approached her five years ago to make a p0rn and she turned the offer down, despite the fact that she was all drugged out and needed the money.
The gang is all upset that Farrah's sexy movie had "Teen Mom" in the title because it reflects badly on them all. (To be fair, getting knocked up at 16 and then doing a reality show about it hasn't exactly reflected all that great on you all… Just sayin'…)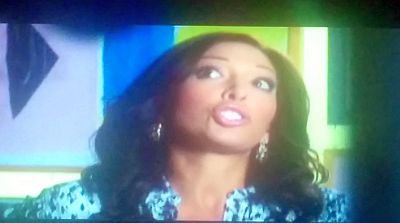 Meanwhile, MTV, who loves to stir the damn pot, decides that Farrah needs to see what that bitch Maci said about her, so they show her the clip of Maci quitting. As Farrah watches it, it's very obvious that Farrah is trying not to cry. She's flapping her ridiculously long eyelashes in an attempt to hide it, but it's obvious.
The producers try to dig into Farrah to see how she feels about what she just watched, but Farrah's not really giving them sound bites they are hoping for. The producers basically tell her to answer the questions and talk crap about Maci so they can all make it home in time to watch Catfish.
Farrah actually answers semi-maturely. She suggests that Maci seek counseling if she hates her that much. The producers are still not happy so they keep pressing, but Farrah still won't budge.
Luckily for MTV, they can always count on Maci to talk crap behind someone's back, so they go film her eating pizza with her other friends. She talks for about two seconds about her unborn daughter J-A-Y-D-E and then starts right in on talking about Farrah.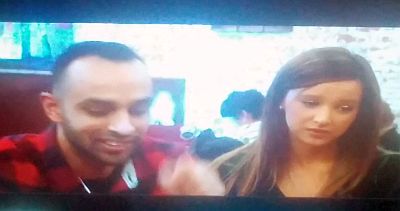 "I'm soooo tired," Maci wails, while looking longingly at her friend's beer. "I'm soooo stressed."
She then tells her friends how swindled she felt when MTV sprung Farrah and her backdoor on her unexpectedly. Seriously, all Maci has done this episode is stuff her face with pizza and talk about how she has nothing against Farrah, all while talking crap on Farrah.
Back in Farrah's hotel room, Producer Heather (or "Heddy" as she is annoying called by the gals) is once again pumping Farrah to talk crap on Maci. (Is the executive producer giving a bonus to anyone who can get one of these girls to bitch slap another one?)
Finally, Farrah opens up, stating that even though she let someone put it in her butt on camera, at least she's not in the same place she was six years ago, like Maci is. As Farrah talks about how fake Maci is, she is spraying her fake hair with her fake nailed hands. And staring at her fake face in the mirror. Just sayin'…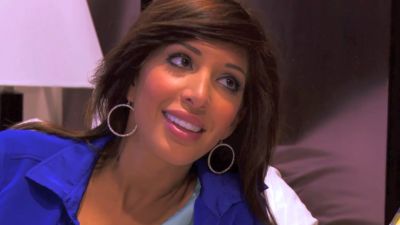 Farrah does,however, make some valid points in regard to Maci not distancing herself from the show (and you know The Ashley hates to admit that). Luckily, she comes right back with a Classic Farrah-ism.
"If I was an actual p0rn person, I'd have a p0rn name. Like Candy Willow," she tells Heather, suggesting that Maci's ex, Ryan, would probably star in the movie with her. (Hey– he might as well! He's probably already in bed anyway!)
Farrah says that she may ask Maci why the hell she is still on the show, and suggests that it's because Maci needs the money.
Um…HELLO! Maci doesn't need the money, she works full time at…oh…wait… Well, she's going to school to get a career as a….oh, wait…
The next day, the girls are splitting up to do on-camera magazine interviews. Maci gets paired with Amber, while Farrah is working with Catelynn. Farrah has the biggest, fakest grin on her face during the interview, but when it comes time for the whole cast and crew to eat lunch together, that smile quickly goes away. Maci is hiding in the other room, afraid to see Farrah.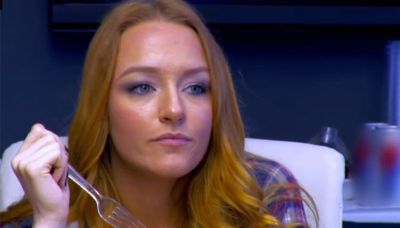 Maci is like that girl in high school who trash talks everyone and then one day says the wrong thing to some big girl with overplucked eyebrows and gets called out to fight. But instead of fighting, she calls her mom to pick her up from school early, complaining of cramps.
Anyway, Farrah's ready to pounce as Maci enters the room. Farrah's manager, and everyone else in the room gets these little smirks on their faces because they know sh*t is about to go down. April seems to be unable to believe her luck– usually she has to pay $14.95 on the Pay-Per-View to see this kind of action!
Farrah randomly asks Maci why she's there, and Farrah tells her that she shouldn't be here because she doesn't want to be there. Maci seems kind of stunned that she got called out but tries to defend herself. However, Farrah won't stop barking long enough to let Maci get in any words.
"I see my child everyday!" Farrah says. (Um…except for those days you're in New York. Or Los Angeles. Or partying in Vegas. Or working at a strip club in Florida…)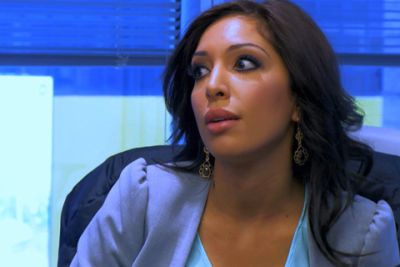 Maci is handling things pretty maturely but is not apologizing for her actions. Farrah keeps screaming and Heather decides they need to turn this into a full-blown 'Jerry Springer' episode. She brings Farrah and Maci to an office alone to let them settle their differences.
Why do I have a feeling that the Larry producer guy is out trying to find a kiddie pool to fill with a bunch of Jello so they can settle their differences by Jello wrestling?
The discussion between the girls is useless, of course. Farrah demands that Maci explain "all parts" of what she said, and Maci is just confused. I mean, she trashed Farrah a lot, so it's hard to figure out where to start.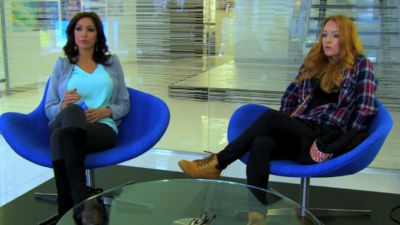 Farrah starts barking like a chihuahua in heat again, and Maci is just done. She gets up to leave and the producers are frantically trying to get her to come back. ("Larry hasn't even gotten back with the Jello pool yet!")
Maci, meanwhile, heads back to the room where everyone else is, to (of course) eat pizza. The girls still have to film the After Shows, which makes all the girls nervous because they'll be on stage with Farrah (or as Catelynn calls her "the Devil!")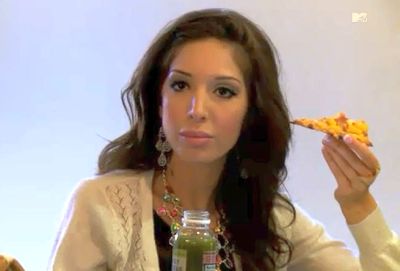 Just then, Cate sees a tweet that Farrah has posted that basically calls out Cate and Amber for being crappy parents because they didn't put their kids' photos on the cover of their books.
This angers Amber; but instead of going all batsh*t crazy and throwing the pizza in Farrah's face like she might have done five years ago, she is completely rational and adult about it. Amber explains that it would not have been appropriate to have her six-year-old's face on a book that discusses drugs and sex. (Farrah's book, of course, discussed her baby-daddy's man juice, but had Sophia on the cover. As you do.)
The girls all talk about how Farrah's meanness has kept them from being friends with her. Maci, ever the martyr, then says that in order to fix the damage that's been done, she'll have to swallow her pride and apologize to Farrah.
MTV has set the After Show up for maximum drama– they have prepared a segment that will just feature Maci and Farrah. Maci, however, doesn't want to be on set with Farrah alone. (I can't really blame Maci here. She knows this was done with the sole purpose of getting them to scream at each other.)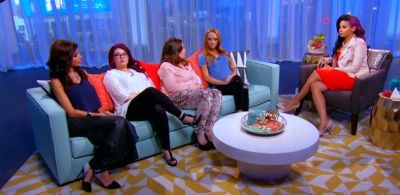 Farrah's basically chomping at the bit to see Maci again, but Maci refuses to go out there. Farrah's sitting there with a smirk on her face, thinking that Maci is scared of her, as the head producer tries to go convince Maci to basically Jello wrestle Farrah for ratings. Again, Maci refuses (good for her!) and the producers slunk back all sad. They parade all four girls out there in order to get Maci to come out.
Can we talk about Nessa for a second? She's serving as host of this mess but is unable to say simple words. If you are trying to make it as a TV host, and you're still saying "wit" instead of "with" it's time to hang it up. Besides, everyone knows that Barbara Evans would make a much better After Show host.
"So, Maci, ya wanna tell us why ya think Farrah's a bitch of a co-star?"
Anyway, the conversation is super tense, and Maci and Farrah are trying to keep it civil. Catelynn then brings up Farrah's book tweet, and Farrah comes up with some random explanation as to why she acted like a great big douche-nozzle and posted that tweet. Amber even speaks up, letting Farrah know that the tweet hurt her feelings. Farrah is unable to understand what "feelings" are, and Nessa doesn't know what to do "wit" all of these chicks.
The Ashley needs to acknowledge Amber's behavior in this scene. Amber was incredibly mature and impressive this whole episode. She calmly explained to Farrah why she was upset and was being very kind about everything. She has come so far, and that needs to be mentioned. Farrah, knowing Amber had a great point, just stares vacantly at Amber, unable to respond and admit that she was wrong.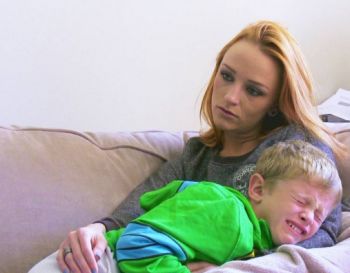 The episode ends with Cate, Amber and Maci all hugging goodbye, as Farrah walks off alone. It's actually kind of sad.
After this episode aired, the real drama began on Twitter between Farrah, Maci and other members of the 'Teen Mom' cast. Click here to read The Ashley's play-by-play account of what happened.
To read The Ashley's recap of the previous episode of 'Teen Mom OG,' click here!
(Photos: MTV)