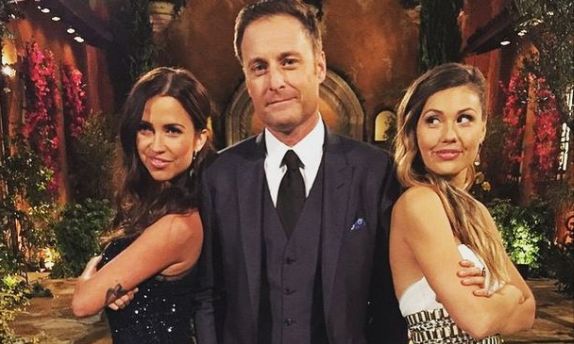 It's the season all of us Bachelorette fans have been waiting for trying to decide if we can actually sit t
Kaitlyn, described as a funny and "completely inappropriate" Canadian, and Britt, the "emotional" and "loving" girl with possible bad intentions. The intro for these chicks is supposed to be flattering but they basically just made Kaitlyn seem manly and awkward, and Britt crazy and dramatic. So…basically, it was completely accurate.
The ladies get all dressed up and get into their limos to head to the Bachelor Mansion.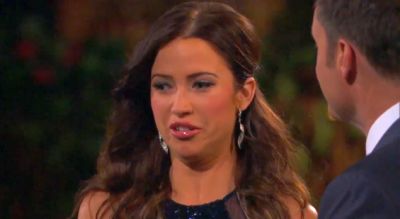 Neither is thrilled that they have to compete with the other to get a shot of boning 3.5 guys this season, but are willing to put up with this "Dual Bachelorette" scenario if it means there may be some lucrative Instagram product endorsement deals in their futures.
Before we head to the Bachelor Mansion, we get to meet a few of the male suitors.
The first guy we meet is Jonathan. He's African-American, and they let him go onscreen first, so consider that ABC's attempt at integrating this show. Enjoy your two to three episodes, Jon!
We also meet Tony, who is a self-described "healer". That means he is probably unemployed, or works at Red Lobster just until his "acting/health and wellness career" takes off. Something tells me that Tony will bring the crazy strong this season.
It's time to get this sh*tshow started! Britt and Kaitlyn arrive at the Bachelor Mansion and meet up with host Chris Harrison. The girls didn't exactly become BFFs during Chris Soules' season of The Bachelor, but they seem to be get along. Well, to be fair, Britt seems to get along with Kaitlyn. However, Kaitlyn's hate of Britt so obvious. As Britt spews her normal fake-smile-filled junk mail of a speech about finding love, sharing her life,etc., Kaitlyn's trying her best not to roll her eyes. She is, however, shooting mad daggers at Britt and her scraggly hair extensions.
Seriously…no one in the hair and makeup department was available to help Britt tame that wig?!
The first limo arrives and the first guy is Ben H. He's a software salesman and seems relatively normal so we know he won't be getting any airtime. He is way into Britt and basically treats Kate like a member of the clean-up crew.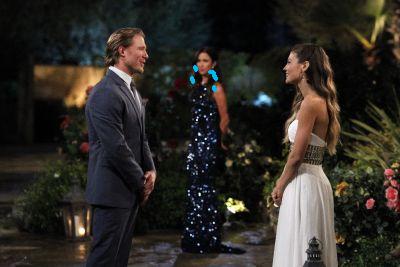 Jonathan is next out. He's being all weird and hangy on Britt. He's staring into her heavily made-up eyes and totally ignoring Kaitlyn. He barely mumbles a hello to her as he goes into the Mansion.
Clint is a guy that claims to be 27 but looks about 50. I'm actually quite positive that he was the dude that played Zack Morris' father on 'Saved by the Bell.' He, too, is obsessed with Britt. Kaitlyn's feeling kind of bad because none of the dudes are paying attention to her.
Next we meet Kupah. I keep expecting him to tell Mario and Luigi that "our princess is in another castle." He goes for Britt and Kaitlyn is feeling pretty low. Britt, of course, is happily gloating and smirking. Sorry, Kate, but a good personality only takes you so far; after that, it's fake hair and bad eyeshadow that will take you all the way.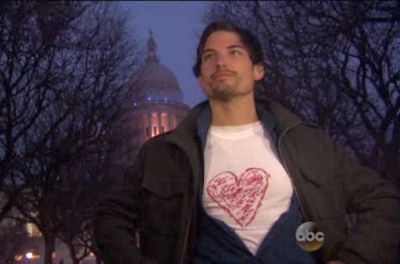 Jared, a dude who looks like a mix between Abraham Lincoln and Ashton Kutcher, also approaches Britt and thoroughly creeps her out by showing her his superhero shirt. He tells her that "Love Man" is his alter ego and Kate looks relieved that she totally dodged that bullet.
The men are all laying it on really thick to Britt, which Kaitlyn realizes is because Britt's really personable and she's, well, kind of frigid.
Next we meet Ian, a man from Los Angeles who once spent time in a wheelchair after a car crash. He whispers to Kaitlyn that he's hoping it will be her instead of Britt. That helps make Kaitlyn feel a bit more confident that she won't lose the spot to Britt and her fake laugh.
JJ emerges from the limo and asks Kate if he can "puck" her. (He likes ice hockey…get it.) He then goes over to Britt and apparently doesn't want to "puck" her because he didn't bring her anything but a lazy smile. Kaitlyn, who, as you remember asked Chris Soules if she could "plow his field" last season, thinks JJ's joke was hysterical.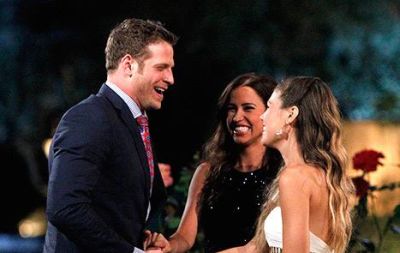 Next we meet Ryan M., a junkyard specialist (??) who seems to be the type of guy who would stands too close to your face after he buys you a drink.
Daniel dances through his meeting with the ladies. We learn that he is a terrible dancer and, well, terrible at making first impressions. We also meet Josh, a law student/exotic dancer who rubs his manmeat on both ladies after emerging from the limo. He has some bad prison tattoos, so Kaitlyn is happy to push Josh and his helicopter penis toward Britt.
We next meet Joe, a Southern gentleman from Kentucky who has the same hair as Bart Simpson. There's Tanner, who brings Britt a pack of tissue because, well, she a big blubbering whiny crier.
"What is that, soap or tissues?" Kaitlyn asks. Britt, of course, isn't smart enough to realize that was an insult.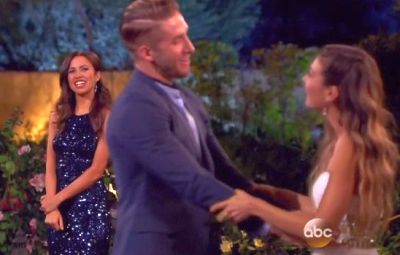 The next guy is Shawn, who Britt feels an instant connection to. She gets all butt-hurt, though, when he wants to hang out with Kaitlyn instead of her. After he goes into the house, Kaitlyn runs into the Mansion to say hello to the men in there again. She's laying it on thick, telling the guys how handsome they are, etc. It's like bad campaigning. Britt, of course, is pouting about how it isn't fair that Kate went inside without her.
Waa.
Tony comes over and says a really nice speech to Britt. She's grinning ear-to-ear…until she hears him say the exact same thing to Kaitlyn. In.The.Face.
It appears that Ryan M. is going to be the token drunk tonight. He's screaming how horny and selfish he is, all while slobbering all over some of the other guys. As Shawn E. arrives in a hot tub car (yes, that's a thing) Ryan decides to sneak outside to scream that Shawn's car sucks. He also screams that Shawn (whose junk is all wet now, BTW) sucks too, which hurts Shawn's feelings. Ryan's drunken bro behavior doesn't sit well with either lady.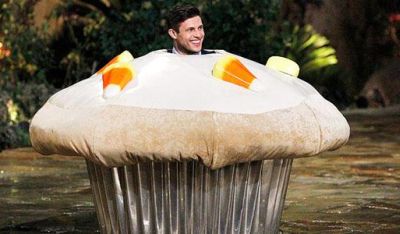 There's no time to think about it, however, because Chris has just arrived in a cupcake car. (Yes, that's a thing.) He's a dentist who makes bad jokes about being "sweet."
Also…I'd like to ride in that cupcake car please, and thank you.Please, God, let somebody make that happen for The Ashley.
After the last guy arrives, Chris Harrison tells the girls that one of them will be getting the boot tonight. Britt's nodding her head like an interviewee on speed, while Kaitlyn seems bored by the whole thing.
Inside, the guys are chatting about how Britt is a trophy wife, while Kaitlyn is more of a "real" wife. (Seriously—do guys really talk like this? If so, I want to move to another planet.)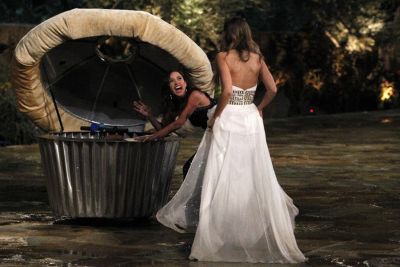 The ladies enter the cocktail party and are immediately greeted by a room full of eager, most likely sweaty dudes. Kaitlyn starts off with a joke about how stupid having two 'Bachelorettes' is. Britt, of course, has her rejected beauty queen speech all ready. She talks about how she is looking for love, and has an open heart…blah blah…world peace…blah blah.
Britt is acting all overly excited about everything. When she finds out that one guy has a nephew, she looks like her head is literally going to explode. Seriously, this girl needs a tranquilizer.
Tony, the healer, tells Britt that, while he came here for Kaitlyn, he got a great feeling from her instead. Um…if this dude is a "healer," why the hell didn't he "heal" that big ol' black eye on his face? Just sayin'…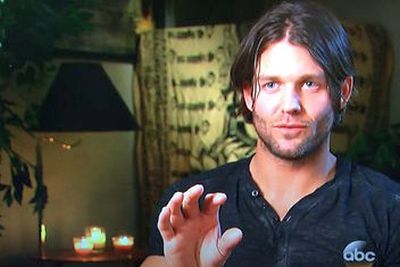 Chris H. tells the guys that they are allowed to vote at any time for the woman that they want to become the 'Bachelorette.' Tony immediately runs to the voting room, puts his hands on both voting chests and tells us that "the energy coming from Britt's chest is pulsating."
Um…it better be. She paid good money for her chest!
That makes Britt and Kaitlyn scramble even harder to try to get the guys to like them. Britt says that she only has a few minutes to convince the guys that she's wife material.
This is seriously getting hard to watch. Thanks guys, for setting women back 20 years with this trash-heap of a show.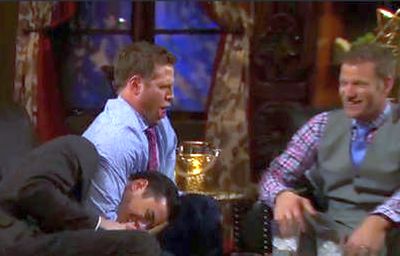 Meanwhile, drunken Ryan is screaming how it seems like he is on the gay 'Bachelor.' (Now that's a show I'd watch!)
Ryan's looking to liven up the party, so he's screaming at everyone. The guy that pulled up in the hot tub car is still all mad that Ryan screamed at him, so he confronts him. Someone get Tony the Healer! He needs to get rid of all this negative energy…and probably any alcohol near Ryan.
Next, Ryan takes Britt aside to talk, so all the guys decide to try to rescue Britt by interrupting her time with Ryan. After calling Britt and Kaitlyn "hoes," he then approaches Kaitlyn and decides to play grab-ass  with her. Ryan seems to be completely unaware that he's acting like a drunken ass-goblin, because every time someone approaches him about his behavior, he is totally confused and hostile.
Naturally, the next step for Ryan is to get into the pool and start screaming how horny he is. He's in his Hanes His Way bikini briefs and is tumbling around the pool. He then sloshes into the voting room and throws his rose at Britt's portrait on the wall. (That's actually probably exactly what I would have done if I were on this show.)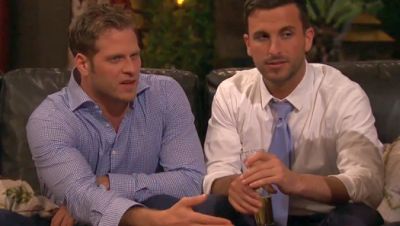 Afterward, he tells one guy that he needs to be raping him right now. Everyone knows that making jokes about sexual assault is a great way to get people to like you!
Finally, a security guy approaches Ryan and tells him that Chris Harrison needs to see him outside. Chris tells him to take his vodka-soaked pants and get into the shuttle van and go home.
After he boots the boozer, Chris H. tells the guys that Ryan went home because he wasn't there for…wait for it…the right reasons. They're not going to bring out Desiree Hartsock and let her rap again, are they?
The voting period is winding down, so the guys are making their decisions. A few, however, are having trouble picking between Kaitlyn and Britt. The girls are starting to realize how awful this dual 'Bachelorette' thing really is.
It's time for the votes to be counted…but…it's already 11:00. We finally get the results: To Be Continued….
Seriously?!?!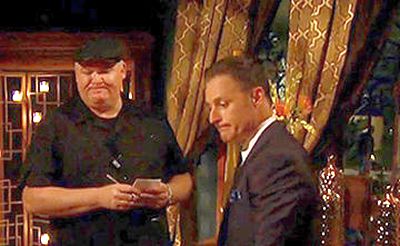 We've waited two hours to find out NOTHING except that Chris Harrison has a really, really big bodyguard.
I hate/love this show so much.
Tonight, the second part of the 'Bachelorette' premieres and we will find out whether Britt or Kaitlyn was chosen as this season's star. (If you don't want to wait until tonight, click here to find out now!)
(Photos: ABC)