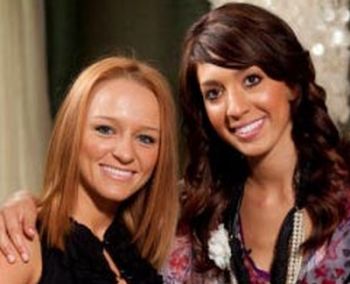 File this one under: "Pot calling the kettle black."
A week after her post-episode Twitter assault on her Teen Mom OG co-stars, Farrah Abraham continues to throw verbal daggers at Maci Bookout. This time, however, Farrah decided to use the tabloids to sling insults at Maci.
"Maci has a lying problem," Farrah told In Touch Weekly recently. "Maybe she thinks there's so much attention on me that she needs some."
I just…can't….
Farrah, who still denies that she had a part in organizing her sex tape, and has lied about numerous other things during her six years in the spotlight, claims that Maci is the one that needs therapy.
"I feel like she needs some mental help," Farrah told In Touch. "I would never let my daughter around parents like Maci."
Although Farrah claims that she and Maci have been enemies "for years," their feud really kicked into high gear when Farrah found out that Maci had quit 'Teen Mom OG' once she found out that Farrah was returning to the show. Their infamous face-off in New York City earlier this year was caught on camera and shown during a recent episode.
As for her relationships with the other 'Teen Mom OG' stars– Amber Portwood and Catelynn Lowell— Farrah says she has patched things up.
"Catelynn and I are cool," Farrah told In Touch. "Amber used to fight with me to the point where we couldn't be in the same room. Now we're honest with each other and have a friendship."
Maci has not responded to Farrah's jabs…yet.
(Photo: MTV)