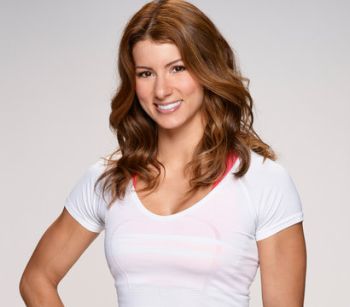 Comeback Canyon is not coming back to The Biggest Loser.
Last season's big twist, in which eliminated contestants went to train with Bob Harper at Comeback Canyon instead of going home, proved to be a big hit with 'Biggest Loser' fans, but trainer Jen Widerstrom says that it's unlikely that we will see the twist on the upcoming 17th season of the show.
The Ashley caught up with Jen on the red carpet of last night's OK! Magazine So Sexy Party to find out what we will—and will not—be back for 'The Biggest Loser' Season 17!
"No way can they bring Comeback Canyon back for next season," Jen told The Ashley. "The cat's out of the bag. If the contestants come in knowing that when they lose they will get to work with Bob Harper one-on-one, are you kidding? They'll try to lose the first week! It was great but there's really no way that they can do [that twist] again because the surprise element would be gone."
Speaking of Bob, Jen said that she "is really hoping" he comes back as a full-time trainer for Season 17.
"He's so great to have around the Ranch," she said. "I would love to see him come back."
Last season's "Glory Days" theme featured all former athletes who were trying to lose weight. Jen said that it's likely Season 17 will have a theme as well.
"Of course there will be a theme!" she said. "This is season 17! Unfortunately, we trainers don't get to really find out what it is until right before [the viewers] do. I tell people that I will find out when they do, because that's the truth. I don't mind the themes."
Her "Glory Days" contestants are now her close friends, she told The Ashley.
"I speak to last season's contestants all the time, especially my White Team!" she said. "My voicemail box is always full. They are all doing really well back at home and we talk all the time. I will send them texts. We are all still close."
The new season has not started filming yet, so NBC has not set a premiere date for 'The Biggest Loser' Season 17.