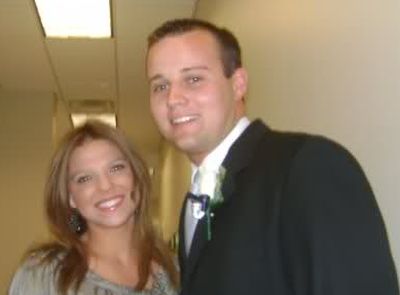 Amy Duggar has been a frequent guest star of 19 Kids and Counting, the TLC reality show starring her uncle, Jim Bob Duggar and his family, but on Friday she and her boyfriend of six months wanted to make it clear that she was not one of her cousin Josh Duggar's five sexual assault victims.
Amy's boyfriend, Dillon King, posted a photo of Amy, along with a caption that seemed to serve as a statement to those speculating that Amy had been the fifth sexual abuse victim of Josh, who on Thursday admitted to molesting five girls, including four of his sisters, while he was in his teens.
According to the police reports released by In Touch Weekly on Thursday, one of the five girls was someone who did not live in the Duggar household, so some fans had assumed that girl was Amy. Dillon seemed to want to put that speculation to rest by posting about it.
"I'm so thankful for this beautiful girl in my life, praying for the Duggar family in this hard time," Dillon wrote in the photo caption. "Thank you Jesus Amy wasn't involved in the situation. Love you baby girl! Praying for your family and the love ones involved."
Amy responded by thanking her boyfriend for posting that, and thanking her followers for their prayers.
While Amy and Dillion may have thought that they were doing right by clarifying that Amy wasn't Josh's fifth victim, they took some backlash from fans, many of whom stated that this was disrespectful to Amy's cousins who were victims.
"I personally feel that posting a comment on Instagram about the fact that Amy wasn't involved looks a bit insensitive to the victims who were," one wrote.
"This is so tacky," another commented.
Dillon responded to the negative comments and gave his perspective on the Josh molestation situation.
"How is praying for the Duggar family and the victims at this time as they are dealing with things, and being glad that my girlfriend wasn't involved wrong?" he wrote, later adding that he found out about the molestation via the news stories earlier this week. "Please don't think I'm only thinking of myself and Amy in this situation (that's not the case). My prayers goes out to the Duggar family, the [people] involved and the families involved."
For the time being, TLC has pulled all reruns of the air. The network has not, however, completely cancelled the show.
(Photo: Facebook)