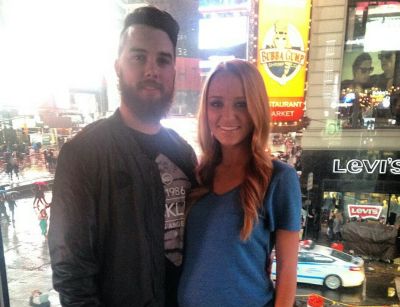 This story has been updated.
Teen Mom OG star Maci Bookout her boyfriend Taylor McKinney have welcomed their second child today!
The reality star confirmed her daughter's birth on her Twitter account on Friday night, stating that she and the baby are doing great!
"Jayde made her grand entrance at 1:59pm today. She weighed 7 lbs. 15 oz. at birth. She is beautiful and as healthy as can be!" Maci tweeted.
The Ashley was the first to report that Maci was reportedly in labor earlier this afternoon.
Several of Maci's long-time friends have been sending good vibes and best wishes to Maci and Taylor today, which seemed to confirm that was a child about to be sprung from Maci's loins.
Sway Sandusky, a friend of Maci's that has been featured on 'Teen Mom' and Maci's 16 and Pregnant episode, tweeted to Maci this afternoon.
"Sending positive vibes to @MaciBookoutMTV and @tmon3yy right now!!"
Maci responded by thanking Sway and posting the "nervous emoji." (Wait– is there such a thing as a "nervous emoji?")
Maci had previously stated that her due date was June 12. Wanna see her baby registry? 
She is unlikely to share any photos for the time being, due to her contract with MTV. Oftentimes, the network will arrange a photo session with a magazine to debut the baby.
UPDATE: Maci's mother, Sharon Bookout, tweeted out Bentley's thoughts on his new baby sister.
"Bentley is over the moon for his baby sister, " she said, adding that he told his grandmother Jen Edwards, "You can kiss her, she's really soft."
No photos of Baby Jayde have been released yet, and they likely won't be, due to Maci and Taylor's contract with MTV. The network will likely arrange a photoshoot with a magazine for Maci and Taylor to show off their baby.