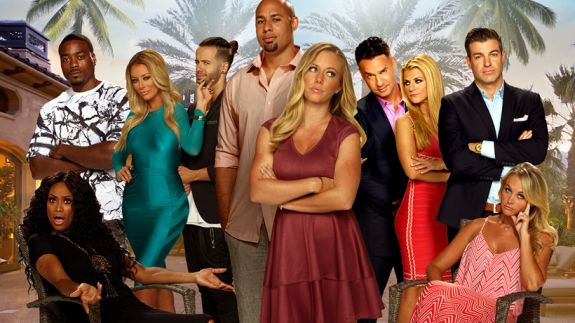 After months of anticipation, it's finally time for the new season of Marriage Boot Camp. Five couples, including reality stars Kendra Wilkinson and Hank Baskett, who kept us entertained for months last year by broadcasting the aftermath of Hank's cheating scandal on their realty show, will head to a mansion to get intensive therapy to save their relationships!
Jim and Elizabeth Carroll, who founded the Marriage Boot Camp, will put the couples through a variety of test and counseling sessions, in an attempt to keep their relationships from crumbling. The Carolls may run into a problem, however, when the majority of the couples become star struck and distracted when Kendra and Hank arrive. (See, even other reality stars want to know what really happened with Hank and the transsexual model!)
In the teaser clip of tonight's episode, some of the Boot Camp attendees admit that they want to know the truth.
"The fact that they're here in 'Marriage Boot Camp' implies that there is some truth to those tabloid stories and they're actually here to work on it," says Tami Roman. "I need to know, Hank…is the transsexual story real?"
Kendra doesn't seem thrilled with all the attention she and Hank get when they enter the house.
"Our marriage is potentially over, so if I feel for one second that somebody's judging us, there's going to be some drama going on," she tells the cameras.
While Kendra and Hank certainly have the most-interesting storyline, all five couples seem to have their share of drama to offer.
"Your relationships are crumbling; otherwise you wouldn't be here," Jim tells them at the beginning of the Boot Camp.
Let's meet the couples!
The Headliners:
Who: Reality stars Kendra Wilkinson and Hank Baskett
Biggest Issue: Um…he (allegedly) had an affair with a transsexual model so…there's that. Kendra and Hank managed to get through a whole season of their reality show, 'Kendra On Top' without revealing whether or not Hank did have the affair, so we are (supposedly) finally going to find out the truth.
Quote of the Season: During a fight with her mother, Kendra tells her mom, "You sell my tears to the tabloids!"
The Cougar & Cub:
Who: Tami Roman and Reggie Youngblood of 'Basketball Wives' fame
Biggest Issue: Tami is 17 years older than Reggie, and has already been through the "married and having kids" phase, unlike Reggie who is looking forward to it. They can't stop breaking up and getting back together.
Quote of the Season: Tami will utter the phrase, "I am a one dick woman" at some point during this season.
The Drama King & Queen:
Who: Aubrey O'Dey (of girl band Danity Kane) and Travis Garland (of NLT boy band fame)
Biggest Issue: They don't trust each other, they don't communicate well and they seem to feed off of relationship drama. Their relationship has become so miserable that Aubrey moved out of their home.
Quote of the Season: "Waaa!"
The Sober & Sour Shore Couple
Who: 'Jersey Shore' star Mike "The Situation" Sorrentino and his college girlfriend, Lauren Pesce
Biggest Issue: Mike's past drug habit has made his rekindled relationship with Lauren (whom he did not "smush" during the 'Shore' days) hard. Lauren seems to be terrified that Mike will relapse, and her insecurity has made their relationship pretty miserable.
Quote of the Season: "You're a drug addict! You ruined my family," Lauren will scream at Mike.
The Big Brother Beauties
Who:  Big Brother stars Jordan Lloyd and Jeff Schroeder
Biggest Issue: They seem to be working harder to project the image of being a "perfect couple" instead of working on their relationship. Jordan has moved across the country twice for Jeff, which seems to have caused some bitterness on her end.
Quote of the Season: "If we can't get this down, marriage is out of the question!" Jordan says.
'Marriage Boot Camp' premieres tonight at 9 p.m. on WEtv!  Check out the super trailer below: