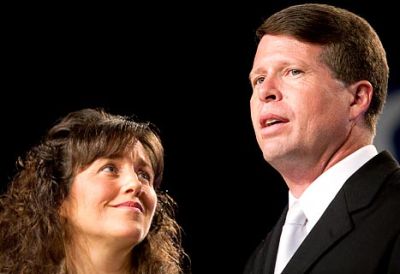 After more than a week of complete silence, the Duggars are finally speaking.
Jim Bob and Michelle announced on their family's website today that they will do their first sit-down interview since the news of the huge sex abuse scandal involving their oldest son, Josh Duggar, broke last week.
The Duggars, as well as Josh and his wife Anna, issued statements via People magazine on Thursday, but there has been dead silence in the Duggar camp since then. (Even Jill and Jessa Duggar— who update their social media followers any time they share a milkshake with their husbands–have been completely silent on Twitter and Instagram).
In a statement posted on their official website (and later picked up by the Duggar's official media mouthpiece, People) Jim Bob and Michelle broke the news of their interview.
"Next week we will sit down with Megyn Kelly on Fox News to share our hearts with you about the pain that we walked through as a family twelve years ago, the tears we all shed and the forgiveness that was given. We appreciate the outpouring of love and prayers for our family at this time," they wrote.
Fox News issued a press release today stating that the Duggar interview with air on The Kelly File on Wednesday, June 3 at 9 p.m. There will also be a one-hour special featuring additional interview portions airing on Friday June 5 at 9 p.m.
Numerous news outlets were vying to secure the first post-scandal Duggar interview. After seeing how many viewers tuned in for Diane Sawyer's recent Bruce Jenner interview, they knew an interview like this could mean big ratings and big bucks.
From what The Ashley could gather from various media reports, most of the interview will be shot in the Duggars' home. There has been no indication that Josh or any of the other Duggar family members, other than Michelle and Jim Bob, will take part.
Set those DVRs!
To read The Ashley's previous coverage of the Josh Duggar sex abuse scandal, click here.