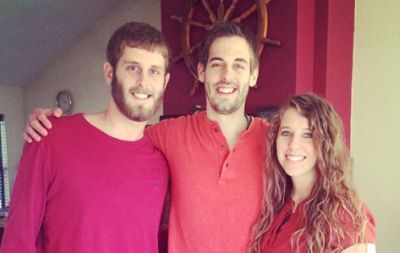 The Duggar family isn't talking (until their televised special interview on June 3) about the sex abuse scandal involving oldest son Josh Duggar, but a few fringe members of the 19 Kids and Counting clan have given their thoughts on the ordeal. We've heard from Cousin Amy Duggar, and Michael Seewald, father-in-law of one of the alleged victims, Jessa Seewald.
We have yet to hear from Jessa's husband, Ben Seewald, or Jill's husband, Derick Dillard. However, Derick's brother, Dan Dillard, who is Jill's brother-in-law, took to his private Facebook last week to give his thoughts on the scandal that has plagued his family-by-law since In Touch broke the news that Josh molested five young girls, including some Duggar sisters.
Like Ben's father, Dan seems to be on Team Duggar.
Although he didn't specifically mention Josh by name, his Facebook post was obviously aimed at Jill's brother.
"Many people are so quick to pass judgment on others without even so much as glancing at their own lives," Dan wrote on May 24. "That's the thing about people of the world… they often don't recognize that Christians are not perfect, but simply forgiven. Plain and simple."
Dan also added a Bible verse to help justify his thoughts.
"For if we would judge ourselves, we would not be judged. But when we are judged, we are chastened by the Lord, that we may not be condemned with the world." -1 Corinthians 11:31-32"
Neither Jill nor Jessa have posted anything to their social media accounts since the scandal exploded. It is unlikely that they, or any of the other Duggar children, will participate in the Fox News. It will most likely only be the Duggar parents, Jim Bob and Michelle.
To read all of The Ashley's previous coverage of the Josh Duggar Sex Abuse Scandal, click here.