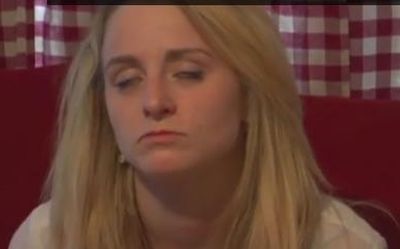 The Teen Mom 2 Season 6 premiere is still over a month away, but MTV decided to brighten our Mondays a bit by releasing the very first trailer for the new season!
And…it basically confirms everything that The Ashley has been telling you regarding 'Teen Mom 2' stars Jeremy and Leah Calvert and her (alleged) pill-popping habit.
The trailer shows Leah's ex-husband, Corey Simms, confronting Leah about her problem, and Jeremy telling her that he's unhappy with who she's become.
"The girl I fell in love with ain't the girl I got now," he tells her.
We also see a very drugged-out-looking Leah looking like she's about to fall asleep at a dinner table. (As The Ashley has reported before, this is not a one-time thing. 'Teen Mom 2' cast and crew members have been seeing this happen for a number of years now, unfortunately.)
"I've been accused of being an unfit mother, using drugs…" Leah says in the trailer.
As The Ashley told you last week, Leah is currently in a rehab facility (or she was as of a few days ago– The Ashley can't confirm yet that she's still there.) However, it's likely she is still there, as MTV basically forced her into treatment by using terms of her contract against her.
After Jeremy announced that Leah had cheated on him with her ex, Robbie Kidd back in October, Leah initially refused to sign on for Season 6. She eventually changed her mind, and much of this footage was filmed during a period in which she and Jeremy were trying to make their relationship work. Obviously, this attempt failed, as Jeremy has since filed for divorce.
In addition to Leah's problems, the new trailer also highlights the problems and struggles of the other three girls. For Kail Lowry, that means showing the escalating troubles in her marriage to Javi Marroquin.
"We are on the edge of divorce," Kail says in the trailer.
For Chelsea Houska, Season 6 will show her developing relationship with boyfriend Cole DeBoer and her struggle to deal with her daughter Aubree's father, Adam Lind, who vows to fight for more custody of Aubree.
And, of course, there's Jenelle Evans and her ongoing saga with on-and-off-again boyfriend/baby daddy/fiance, Nathan Griffith. We'll get to see ol' Nate be hauled away by the cops, the terrible screaming fights between Jenelle and Nathan, and so much more!
Whether or not Season 6 will be the last season of 'Teen Mom 2' remains to be seen at this point. One of The Ashley's show sources tells her that the cast members are pretty much "over it" in terms of filming and are ready to move on with their lives. However, nothing has been decided yet!
The cast will film the Season 6 reunion in July, around the time that this season premieres.
'Teen Mom 2' Season 6 begins on Thursday, July 9 on MTV.
Watch the full Season 6 trailer here: