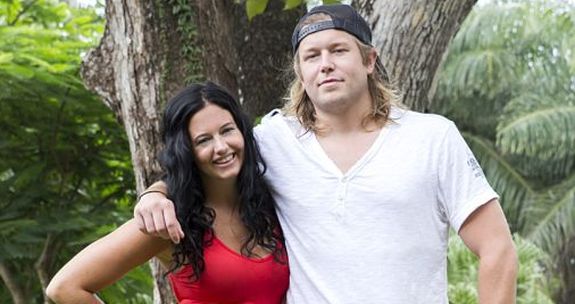 It's been about six months since Ryan Knight, star of MTV's The Challenge, passed away from an accidental drug overdose, but his MTV cast mates, particularly his ex-girlfriend, Jemmye Carroll, are still struggling with the loss.
Jemmye, who was Knight's partner on the show's most-recent "Battle of the Exes II" season, recently penned an essay for Thought Catalog in which she reveals her heartbreak over the loss of Knight, and explains what was happening during the days leading up to his death. His last tweet, which said, "You used to mean a lot," seemed to be aimed at Jemmye, something she confirmed in her Thought Catalog essay.
"Hours before you died you tweeted and I will never be able to get over your last words because they were directed to me," Jemmye wrote. " You died mad at me.
"I forever have to live with the thought that you left this world upset at me."
As 'Challenge' fans know, Jemmye and Knight had a tumultuous relationship, and later an on-and-off-again friendship. Days before Knight's death, however, Knight "yelled" at Jemmye via Twitter over comments she made about him and the events in Ferguson, Missouri, in November. Knight felt that Jemmye had called him a racist, and he lashed out at her via Twitter.
"Yo @JustJem24 f**k you on the real. That's extremely off and I'm ashamed of you," Knight tweeted at Jemmye.
In her essay, Jemmye explained that there was more than just Twitter drama going on between her and Knight during that time.
"In your last days on this earth I failed you, and that's a burden that sometimes feels to heavy to bear," she wrote. "You were calling a lot, mainly at 2 AM and in typical Ryan Knight fashion you would leave me an a**hole voicemail when I didn't answer. I would text you the next morning yelling at you for whatever dumbass thing you said, but now I wish I would have just woken up and spoke to you. You needed me and I wasn't there. It still haunts me."
Jemmye stated that the last time she saw Knight was at the airport after flying home from filming "Battle of the Exes," two months prior to his death on Thanksgiving 2014. The exes were getting along great at that time.
"If I [had] known that would be the last time I saw you I would have hugged you a million times more, and though I'm not sure the exact words I would have chosen to leave you with, I know I love you would have been the very last thing I said," Jemmye said.
At the end of her essay, Jemmye wrote that she always knew that Knight would die young, given his lifestyle.
"Always knew that I would get that call," she wrote. "That you would be gone. You lived too fast to live a long life. You always knew that and I knew it as well, but that doesn't ease the pain."
Jemmye has stated that she will no longer compete on future 'Challenge' seasons, due to Knight's death.
(Photo: MTV)