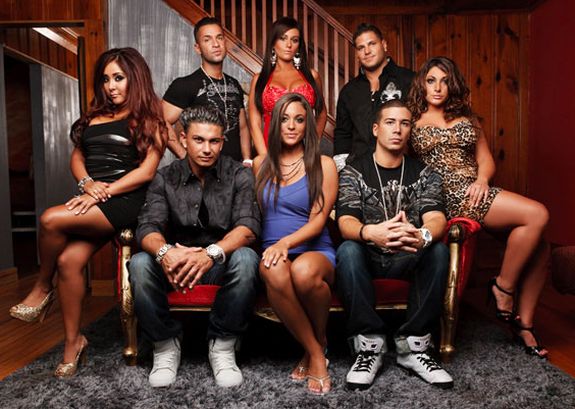 In the three years since the last episode of Jersey Shore aired, the show's cast has all moved on, leaving only memories of their days talking on the duck phone and "smushing" each other at the Shore House. While the cast has remained relatively close over the years—Nicole 'Snooki' Polizzi and Jenni 'JWoWW' Farley even did a spin-off show together—one cast member has been completely shunned by his former roommates.
In a new interview with WetPaint Entertainment to promote his new reality show, Marriage Boot Camp, Mike gave an update on the sad state of his relationships with the 'Jersey Shore' gang.
"I really haven't seen any of the cast mates; it's been at least  a year or two," Mike said in the interview.
Mike, who will star in 'Marriage Boot Camp' with his girlfriend, Lauren Pesce, admitted that his past drug addiction contributed to his strained relationships with the fellow 'Shore' stars, as well as with his own family.
"Any kind of addiction hurts relationships," Lauren added. "It affected that friendships, and family relationships…But they've always been considered family to him; they spent so much time together."
Mike was one of the only cast members that was not invited to attend Nicole's November 2014 wedding to Jionni LaValle. (The other roommate that wasn't invited was Vinny Guadagnino because…well, Nicole slept with him and that's just weird.) During the last season of 'Jersey Shore' Nicole barely spoke to Mike.
"Mike, obviously, we all know…we don't talk," she told Wendy Williams in 2014. "He wasn't a good friend either. He made up stories; we all seen it on the show."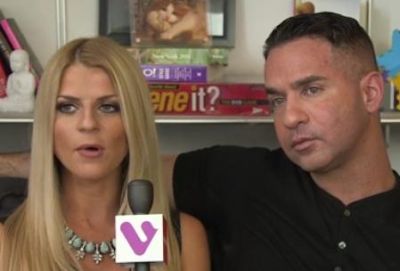 In the interview, Mike said that he would like to change that, and hopes to eventually mend the broken relationships he has with his former friends.
"A lot of people ask me all the time, 'Have you seen your former cast mates?' I would love to see them but I've really been focusing on getting myself back on track before I'm able to approach any of my other cast mates and make amends," he said. "I would love to do that, though.
When that day comes, Mike says he thinks his former party pals with forgive him.
"Pauly's in Vegas, I think Ronnie's in LA, but I'm sure once I do see them, I think it's going to be all smiles and hugs," he told WetPaint. "I definitely made some mistakes, but at the same time, I believe I've learned from them, and now in my thirties I've calmed down a lot…I couldn't be happier right now."
Mike and Lauren will attempt to repair their own relationship on the new season of 'Marriage Boot Camp: Reality Stars," which premieres tonight on WEtv!
(Photos: MTV, WetPaint)