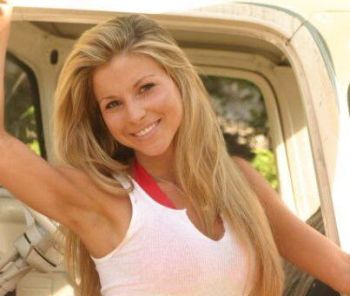 Diem Brown is on the minds of her friends, family members and former cast mates from MTV's The Challenge today. June 12 marks what would have been the reality star's 35th birthday. She passed away on November 14, 2014, after a long, hard battle with ovarian cancer.
Megan Brown, the sister of Diem, wrote a heart-touching tribute to her sister and posted it to her Instagram account this morning.
"Any other morning on June 12th for as long as I can remember I started it with a phone call," Megan wrote in the caption of two photos of Diem on her birthday. "A tradition our family has to never let our birthdays go by without being sung the birthday song .. the whole song, full out, every word. 9 times out of 10 I'd get your voicemail and leave an obnoxious rendition, similar to the one I would receive from you on my birthday.
"I yearn so badly to make that call. I wish we'd kept your number active so I could just go through the motions. Convincing myself you're in LA, traveling to some remote country with MTV or you just missed my call…Grief overtakes me, and sits on my chest so heavy it's hard to breath. During these moments I consciously know the pain will pass and I will keep moving, while acknowledging that I will live these pangs for the rest of my life."
Megan and many of Diem's friends are heading to Nashville to celebrate Diem's life. Diem's friends from 'The Challenge' remembered her via social media.
"Today is @diembrown birthday and this is how I will remember her…taking every ounce of life to the extreme," Paula Meronek wrote. "Whether it's a costume party, a dance party or no party, Diem celebrated with every breath. I miss my friend. But today is a day for smiles, hair whips and splits. I know she is in heaven, watching over us, bringing her spirit to us when we need it most, and just making sure we are doing ok. Well Diem, we are ok, but dammit life was just a lot more fun with you here."
"Let's give @DiemBrown the best gift on her special day," Nia Moore wrote. "Make a donation to her foundation @MedGift and I'll FaceTime/Skype anyone who does."
"Happy Birthday to the lovely Diem Brown! Your legacy of love and compassion lives on through everyone you touched," Devyn Simone tweeted.
"Happy Birthday @DiemBrownMTV, you are missed and so loved! Hope you are having one heck of a dance party in heaven today," wrote Tori Fiorenza.
Many of those closest to Diem, including Johnny Bananas and Aneesa Ferreira, didn't post anything because they are out of the country filming the next season of 'The Challenge,' as The Ashley told you earlier today. (Click here to see the full cast list!)
Please, ladies, in memory of Diem Brown, read this article by Megan Brown. It may save your life!
To make a donation to Diem's foundation, MedGift, click here!