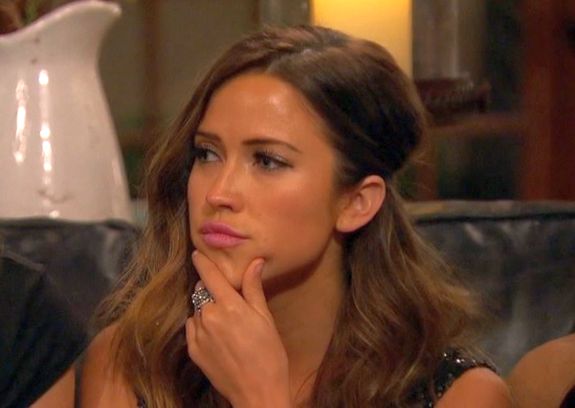 Warning: Potential spoilers lurk below. Enter at your own risk….
Kaitlyn Bristowe is certainly not the most interesting Bachelorette, and her latest action may have proved that she's not the smartest one either! It appears that she just spoiled the ending of her season, revealing her final choice of man in a Snapchat story last night!
The Snapchats would be harmless– if we weren't only on Week 4 of Kaitlyn's season. Since the show has long since finishing taping, there's no reason that the dude should have been in bed with Kaitlyn last night– unless he was the man she chose at the end of the season and they are hanging out in one of the secret rendezvous the winner and the 'Bachelorette' have in between filming and the finale airing.
Kaitlyn posted (and quickly deleted) a Snapchat story that showed her and a guy that looked just like contestant Shawn Booth hanging out together in bed. Shawn in seen lying shirtless and can be heard talking to Kaitlyn about some sort of mobile game (or something).
Kaitlyn has yet to speak out about the Snapchat, which only adds fuel to the fire.
It's been clear throughout the season that Ryan-Gosling-lookalike Shawn has been a favorite of Kaitlyn's. He got the first impression rose on the first night and has gotten more alone time with Kait than most of her other suitors.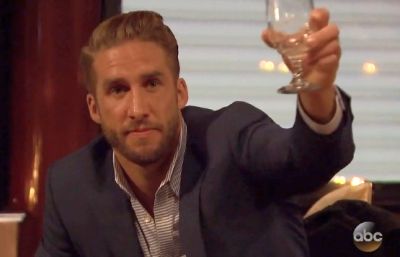 This could be a very costly mistake for Kaitlyn. Past 'Bachelor' and 'Bachelorette' stars have said that their contracts state that they can be sued for up to $5 million for giving away the ending of their season. Although it's highly unlikely that ABC and the show's producers would ever actually sue Kaitlyn for spoiling her season, it would certainly be in their right to do so if Shawn is, indeed, the man Kait chose at the end.
Before yesterday Reality Steve, the king of 'Bachelor'/'Bachelorette' spoilers, stated that Shawn was not the final guy chosen by Kaitlyn. (He has not addressed the Snapchat scandal, however.) Steve claimed that Shawn was one of the last two guys standing, however.
There's a chance that this is all a big joke on the producers/Kaitlyn's part (although it seems unlikely because…who goes to all that trouble?) It's also possible that Kaitlyn really is that stupid and spoiled her own horrible season of 'The Bachelorette.
The show's producers have yet to speak out about SnapchatGate! If this is, indeed, a hoax…well played, guys.
Watch the Snapchat video below:
@HarveyLevinTMZ Did someone say animals? pic.twitter.com/3Km02V9Wgc

— Al Shabibibibibi (@Al_Shabibibibi) June 13, 2015