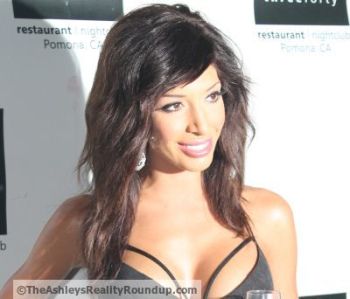 You can already buy replicas of Farrah Abraham's private parts and, um, backdoor, but if you're looking to get even more up close and personal with the Teen Mom OG star, you're in luck!
TMZ broke the news today that Farrah has partnered with the company Celebrity Gene, which basically extracts the DNA of notable people–usually via a lock of their hair– bottles it and sells it to that person's [very creepy] fans.
"Buying a limited edition product that has the DNA of a famous person alive or dead is the ultimate in celebrity memorabilia and provides an undeniable personal connection to that individual," the company's website reads.
Those hoping to buy Farrah's DNA and use it to create a clone of the "Backdoor Teen Mom" will have to shell out a whopping $99. Don't worry though– 50 percent of that money will go to Operation Underground Railroad, a charity that helps kids escape from slavery. (According to TMZ, Farrah will pocket a cool 10 percent of the money raised, in addition to the $30,000 the company paid Farrah for her DNA sample.)
"When my daughter Sophia had to get a DNA test it changed her life and created a better future for her," Farrah told the site. "I hope my legacy can change the world for younger generations and save them from sex trafficking for a brighter future. I'm proud to be an abolitionist, working with Celebrity Gene on this DNA project I hope will help raise funds to change the world for the better!"
The Ashley just…can't…
Anyway, now that Farrah has literally started going inside her body to find things to hawk, she may have finally hit rock bottom. However, just when we think she has gone as far as she can go in terms of um, self promotion, she goes one rung lower.
If you're interested in purchasing your vial of Farrah DNA, click here. (The Ashley can't believe she actually typed that sentence.)